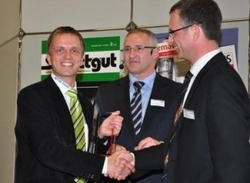 The large number of applications showed that even in difficult economic times many companies are investing in development and innovation to secure a good market position
Columbia, MD (PRWEB) May 18, 2010
The Powtech/TechnoPharm jury awarded METTLER TOLEDO the Innovation Award 2010 for the FBRM® C35 particle size distribution technology in the particle characterization and material sciences category. The Powtech/TechnoPharm Innovation Award was presented during the Partec/Powtech/World Congress on Particle Technology (WCPT6) conference held April 26-29 in Nuremberg, Germany.
For wet granulation processes in the pharmaceutical industry, scientists and engineers previously relied on empirical data and quality control because reliable design and scale-up criteria were missing. With the launch of the FBRM® C35, formulation scientists and engineers are now able to quickly correlate particle system dynamics to processing conditions by running fewer experiments than traditional methods. The in situ design of the FBRM® C35 allows for faster understanding and optimization of processes with no sampling required. The patent-pending scraper keeps the FBRM® probe window clean allowing the system to track agglomeration, compaction and breakage directly in the process vessel - even in the most cohesive particle conditions.
Wet granulation is one of the most common process steps for producing tablets in the pharmaceutical industry. One of the main focuses in scaling-up is to ensure consistent granule shape and size distribution. This is important for consistent flow properties of the granules and to avoid non-homogeneous distribution of Active Pharmaceutical Ingredients (APIs) and other quality issues.
FBRM® C35 enables shorter development cycles resulting in significant cost reductions, increases process robustness resulting in fewer batch failures, and ensures consistent measurements. FBRM® is a highly precise and sensitive technology which tracks changes to particle dimension, particle shape, and particle count. Over a wide detection range from 500nm to 3mm, measurements are acquired in real time while particles are forming and can still be modified enabling process optimization and control.
Prior to the POWTECH/TechnoPharm exhibition, over 50 exhibitors, including METTLER TOLEDO, submitted their latest innovations to the judges from PROCESS, PharmaTEC and Bulk Solids journals. In 2010, the award criteria considered included innovation, quality, efficiency and economics for the user. The submissions had to be no older than one year and available for purchase in the market. The judges formally recognized the METTLER TOLEDO FBRM® C35 as winner on the first evening of the event during an official awards presentation.
"The large number of applications showed that even in difficult economic times many companies are investing in development and innovation to secure a good market position", said PROCESS Chief Editor and Publisher Gerd Kielburger during the awards presentation.
After purchasing Lasentec® in 2001, METTLER TOLEDO has become the world leader for inline particle/droplet size, shape, and count characterization.
###