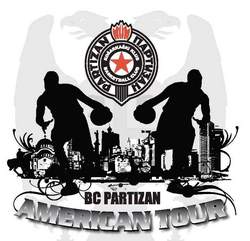 I'm very excited to be a part of these games. I have great respect for Vlade and the Euroleague basketball. My only wish is that Vlade was playing too, so I wouldn't be the oldest guy on the court!
Mokena, IL (PRWEB) September 16, 2009
NBA veterans, Scot Pollard and Mateen Cleaves, will lead the Midwest All-Stars, a team made up of former and current overseas and NBA players, against Serbian basketball powerhouse, Partizan Belgrade, in two exhibition games. On Sunday, September 27, 2009 the first game will be played at 7:00PM CST at Purdue-Calumet University in Hammond, IN. The second exhibition game will be played on Wednesday, September 30th, 2009 at 7:30PM EST at Dakota High School in Macomb, MI.
"We are very honored by this invitation to visit the United States and consider it as a tremendous achievement. We are the first Serbian basketball team to ever participate in such event. At the same time this is a big acknowledgement by the Euroleague and the NBA as well as unique historical moment for Serbian basketball. This is a confirmation that many NBA people are very familiar and respect Serbian basketball tradition. Players, the coaching staff and Partizan's basketball operations are all deserving of this acknowledgement," stated former NBA player, four-time Eurobasket Champion and current Partizan Team President Predrag "Sasha" Danilovic. "We are especially excited meeting our fan base in the Midwest and we are confident that our players will showcase first class basketball. Our fans have always been a very important part of our games and Partizan's success. We hope that we will have a chance to give back, to all of our fans here in the United States, on and off the court."
Denver Nuggets will later host Partizan Belgrade on October 3rd for a NBA sanctioned pre-season game and face the Phoenix Suns on October 6th in their respective cities. Due to the NBA's global expansion of the game and creation of NBA Europe, it has been several years since the best Euroleague teams matched up against NBA teams in the United States during the NBA's pre-season training period.
Partizan, former club of NBA legend and current Serbian Olympic Committee President Vlade Divac, made it into the Eurobasket 2009 quarterfinals, which earned them the opportunity to compete against NBA teams this Fall. Partizan is the only Serbian club to ever win the Eurobasket Championship when they defeated Spanish club Joventut Badalona 71-70 in 1992 in Istanbul. In recent history, Basketball Club Partizan has won more games than any other professional team in Serbia, claiming the last eight Serbian League Championships.
The location of the games against the Midwest All-Stars were partly selected due to the strong ties with the Serbian community in Chicago, Northwest Indiana and Detroit. As of 2005, over 110,000 Serbian immigrants resided in the US, predominately in the Midwest, along with thousands more citizens with Serbian descent. These games will allow the largest concentration of Serbian people in North America the opportunity to watch Partizan play in the States. Tickets are $15 for adults and $10 for under 16. For more information please call 1-888-215-7067, visit http://www.kkpartizan.rs, or send an email to partizan(at)divac(dot)com.
Sam Cappas Production will be hosting a welcome party at Corker's in Highland, IN on Friday, September 25th at 7pm. For more information please visit http://www.serbnet.com or call 773-789-SERB. On Tuesday, September 29th, Ernie's Club in Clinton Twp, MI will be hosting the same gathering for Detroit area fans. For more information please visit http://www.erniesclub.com or call 586-826-8435. More events to be announced around Partizan's visit including appearances, in which the fans will have the opportunity to meet their favorite players, take pictures and get autographs.
"I'm very excited to be a part of these games. I have great respect for Vlade and the Euroleague basketball. My only wish is that Vlade was playing too, so I wouldn't be the oldest guy on the court!" stated 2008 NBA Champion Scot Pollard. "I have met many Serbian people, and am glad to be a part of yet another exciting event and to have a chance to meet more Serb and learn some more Serbian words." added always charismatic Pollard.
Pollard, a former Kansas Jayhawk, was selected 19th overall in the 1997 NBA Draft by the Detroit Pistons, with whom he debuted during the 1997-98 NBA Season. Scot played 33 games for the Pistons averaging 2.7 ppg and 2.2 rpg. He later signed with the Sacramento Kings following the NBA Lockout and was part of the Team's back-to-back Pacific Division Titles and 2002 Western Conference Finals Appearance against the LA Lakers. During his eleven-year career Pollard played for the Pistons, Kings, Pacers, Cavaliers and Celtics. He won the 2007-08 NBA Championship with the Boston Celtics. Pollard retired from the NBA in 2008 and currently serves as a broadcaster for a variety of entities including NBA Entertainment.
Cleaves, a three-time Michigan State University captain, led the Spartans to the 2000 NBCAA National Championship were he was named Most Outstanding Player of the Final Four. The school's only three-time All-American, he was named Big Ten Player of the Year twice, also leading college and conference in career assists with 816 and is Michigan State's all-time steals leader (193). Cleaves was drafted by the Detroit Pistons in the 2000 NBA Draft with the fourteenth pick overall. During his rookie season, he played in 78 games, averaging 5.4 points and 2.7 assists. Cleaves also played for the NBA Kings and Cavs as well as several different teams in the NBDL and Overseas.
For more information on the games, please go to http://www.partizan.serbnet.com. For more info on Partizan Belgrade go to http://www.kkpartizan.rs.
# # #