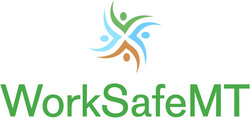 The sessions cover the gamut from OSHA regulations to defensive driving to preventing painful slips, trips and falls. Our speaker-teachers are experts and serious about helping their conference students make Montana a safer place to work.
Helena, MT (Vocus) March 19, 2010
Montana has long been a dangerous place to work. For miners, nurses, loggers, warehouse workers, ranch hands, commercial drivers and office employees. Montana actually has the second highest work-injury rate in the country. Of the professional categories tracked, Montana's work injury rate is approximately 50 percent higher than the national average.
Tuesday, March 30, through Friday, April 2, at the Red Lion Colonial Hotel in Helena, SafetyFestMT will — with concrete use-immediately tools and ideas, and certification coursework — work to make Montana workers safer every day they're at the job.
The WorkSafeMT Foundation Safety Committee is hosting SafetyFestMT and it is free. Based in Helena, WorkSafeMT is a nonprofit partnership created in 2008 that includes state and federal agencies, private business, labor unions, organizations and Montana citizens. Through proactive training, education, utilization of available resources and shared accountability, WorkSafeMT seeks to eliminate occupational injury, illness and fatality statewide. This free, learning-oriented four-day conference is one part of that effort.
"No matter your job title, job description, industry or level of 'safety awareness,' you will benefit from this conference," said George Kochman, WorkSafeMT executive director. "The sessions cover the gamut from OSHA regulations to defensive driving to preventing painful slips, trips and falls. Our speaker-teachers are experts and serious about helping their conference students make Montana a safer place to work."
"No matter what you do for work," she continued, "if you are safe on the job the rest of your life outside of work is better."
Over four days in Helena, SafetyFestMT will offer nearly 60 classes that will be immediately useful for all — from front-line employees to senior managers and company owners, from the manager with an existing safety program to the business owner wanting to start one.
A sampling of course topics:

OSHA 10-hour Construction
SafetyFestMT will offer classes on each of OSHA's top 10 most frequently cited violations in Montana for both construction and general industry
Asbestos and Lead
DEQ Most Cited
Effective Safety Systems at Work
Preventing Slips, Trips and Falls (Montana's most frequent work injuries)
Ergonomics and Back Health
Defensive Driving (driving is high on the list of ways to be killed at work in Montana)
Hazardous Waste Operations
Is your employee high or just happy to be at work?
All class attendees will receive certificates of participation that can be noted in employee files and on professional resumes. In addition, certification cards, or refresher status, will be awarded for the successful completion of OSHA 10-hour Construction, OSHA 10-hour General Industry, Medic 8-Hour, HazWoper 8-hour Refresher for hazardous waste operators, and AHERA standards/asbestos training for maintenance and custodial staff.
And, Ms. Kochman noted, for those employers who are just getting their safety programs started, there are classes to help them write their safety plans. Sessions will also cover the Montana Safety Culture Act, Workers' Compensation 101, Stay at Work/Return to Work and Safety Leadership.
The conference opens Tuesday, March 30, at 8 a.m. with engaging keynote speaker Charlie Morecraft. With 27 years experience at Exxon Oil Refinery, Mr. Morecraft will tell how his life changed in the 1980s when corporate shortcuts almost got him killed doing a routine job. He didn't die. But more than 50 percent of his body was burned and he spent five years in the hospital. He lost his family in addition to time because basic workplace safety practices were not followed. A dynamic speaker, Mr. Morecraft touches his audience through his autobiographical story and his emphasis on taking responsibility for one's actions and one's safety.
Outside of class, attendees can gather additional help and information from a multitude of exhibitors at SafetyFestMT — including expertise from Montana DEQ, Montana DLI Safety & Health Bureau, American Society of Safety Engineers, Genex Services, Respond Systems, Environmental Solutions and many more.
"Everybody needs to care about workplace safety," Ms. Kochman continued. "Each year far too many people are hurt or killed while they're just trying to make a living. With awareness, programs and training, we believe we can change Montana's statistics. This conference is a concrete step toward that goal."
In addition to the intensive classes and expert help in the exhibit area, SafetyFestMT attendees will enjoy free lunch and refreshing breaks.
Line employees, managers and employers can get further information, see the full conference agenda and register online at http://www.safetyfestmt.com. On-site registration is available as space permits.
SafetyFestMT
Tuesday, March 30 — Friday, April 2
Red Lion Colonial Hotel, Helena, Montana
Free
http://www.safetyfestmt.com
For further information, press credentials and/or to arrange interviews during the conference, please contact:
Suzanne Elfstrom / 406-541-2263 /
Press and media support at the conference:
Executive Director of the WorkSafeMT Foundation, George Kochman can be contacted via staff at the conference registration desk or additional conference staff wearing red neck wallets/IDs.
# # #