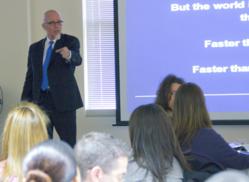 We educate more students today to a higher standard than ever before in our history. But the world is changing even faster than we are—and we need to keep up!
Provo, UT (PRWEB) March 13, 2012
Leaders in education from across the United States recently gathered for two Partnership Forums hosted by Imagine Learning. These semiannual forums bring top educators together to learn from experts, connect with fellow leaders and explore new methods for boosting student achievement.
Attendees engaged in exclusive professional development activities, including presentations on technology and the evolution of education. Featured speaker Jim Warford, former chancellor of Florida Public Schools, led a discussion that was focused on finding solutions to many of the biggest challenges today. Warford and his fellow educators discussed topics such as how to meet state standards, prepare for Common Core and utilize technology in the classroom.
Throughout his presentation, Warford talked about how today's students are wired differently and are best reached through technology. "We educate more students today to a higher standard than ever before in our history," Warford said. "But the world is changing even faster than we are—and we need to keep up!" Interactive software programs like Imagine Learning, which take advantage of digital media, can help educators keep pace with growing trends in education, Warford said.
"Even as technology becomes more important in our children's lives, students still need to have the same foundational skills: proficiency in English language and literacy," said Susan Preator, Imagine Learning CEO. "Imagine Learning is committed to helping educators identify the trends, tools and content that will bring academic success to every child."
Forum attendees in Provo were treated to a guided tour through Imagine Learning corporate headquarters, where they got an inside look at the production team behind Imagine Learning's award-winning language and literacy software program. "What an impressive work environment! You can tell each department has a lot of pride in the work they are doing for students," said one attendee. Attendees in Washington, DC, experienced a virtual tour and a live Q&A session through videoconferencing.
The Partnership Forum is a semiannual event. For information about Imagine Learning and future forums, call 1-866-377-5071 to speak to your local Imagine Learning representative or visit imaginelearning.com.
About Imagine Learning
Imagine Learning delivers award-winning language and literacy solutions to English learners, struggling readers, students with disabilities and early childhood education students throughout the U.S. and around the world. The company's flagship product is an educational software program that uses engaging, one-on-one instruction to meet students' individual learning needs. The program also provides real-time reports that give teachers comprehensive data on student progress. Visit imaginelearning.com to learn how to help your students make powerful progress.