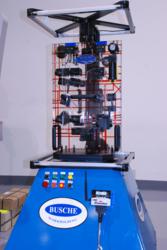 Busche Workholding is a terrific addition to the Partners in THINC family, providing manufacturers with additional workholding options.
Charlotte, NC (PRWEB) November 07, 2011
Okuma America Corporation is pleased to announce that Busche, a leader in quality, custom-crafted workholding, has joined Partners in THINC.
Specializing in custom crafted, hydraulic vertical and horizontal, 4th and 5th-axis and manual workholding solutions, Busche provides engineering and design services as well as finished goods. Dedicated to maximizing the work envelope, Busche's in-house designers and master machinists strive to optimize fixture design and improve productivity for their customers. Servicing a diverse group of industries, including aerospace and automotive, for more than ten years, the company has built a substantial library of fixture models.
Known for speed and customer service, the Busche Workholding facility is over 37,000 square feet in size, located in Albion, Indiana and is ISO 9001:2008 Certified.
Busche products can be seen and demonstrated at the Partners in THINC facility in Charlotte, North Carolina and at the Okuma Tech Centers in Chicago and Houston.
About Okuma America Corporation:
Okuma America Corporation is the US based affiliate of Okuma Corporation, a world leader in the development of computer numeric controls (CNC) and machining technology, founded in 1898 in Nagoya, Japan. Known for its technology leadership and world-class manufacturing, product quality and dedication to customer service, Okuma strives to be the machine tool solution provider to manufacturers worldwide. For more information, visit http://www.okuma.com
About Partners in THINC:
Partners in THINC is a unique facility and concept offering integrated solutions and a one-stop-shop designed to streamline current manufacturing processes, improve capabilities, or for exploring advanced manufacturing options. Each member of Partners in THINC brings specialized equipment, expertise and a commitment to provide the best possible integrated solutions to the end-user. For more information, visit http://www.partnersinthinc.com.
About Busche:
Busche Workholding is Division of Busche (CNC) which was launched in 1997 with one simple mission: Provide quality CNC production machining with exceptional service. Customer satisfaction remains our focus today. Busche's relentless pursuit of perfection is reflected in our belief and commitment in providing the highest quality machining held to exacting standards, and continual procedural and production development and improvement. All focused toward assuring complete customer satisfaction. For more information, visit http://www.buscheworkholding.com.
###