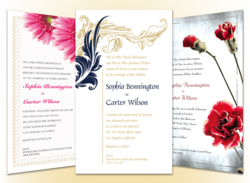 PartyPOP continues to expand its network of more than 2 million party,wedding and event vendors.
(PRWEB) March 29, 2012
PartyPOP.com recently announced free wedding invitations and an RSVP website for any engaged couple in the United States, Canada and United Kingdom. The company has re-purposed their 2012 marketing budget in hopes of building brand awareness and loyalty. According to reports from within the Southern California based company, it's working.
PartyPOP.com features over 2 million highly accomplished and professional companies in the event planning industry. Some of these companies include Precious Party Ponies, Characters~ Costumed Entertainment and Living The Dream Party Rentals.
Precious Party Ponies is a family owned company based in Providence, Rhode Island. The company provides pony themed parties for all occasions, specializing in children's birthday parties. The children can enjoy pony rides, cowboy and cowgirl parties, face painting and cuddly little bunnies to name a few.
The owners and employees at Precious Party Ponies enjoy sharing their love of animals with their customers. The pony parties are beautifully groomed, friendly and safe ponies, who are very well taken care of and well behaved. During every occasion, trained Precious Party Ponies staff will hand lead ponies and assist children in and out of the saddles to ensure safety at all times. The company also assumes full responsibility for managing waste and upholding the integrity of the grounds used for the event. More information can be found online at http://www.partypop.com/v/4370609.
Characters~ Costumed Entertainment is located in Boston, Massachusetts. The company enjoys providing an array of popular and iconic characters to any occasion. Characters like Dora the Explorer and Rapunzel can add extra smiles to any children's party. During birthday parties, Cinderella, Beautiful Belle, Super Mario Brothers and a variety of other popular characters add more excitement to the whole ambiance. Characters~ Costumed Entertainment helps customers choose characters as well as age appropriate games and activities to meet their specific needs. Find more information at http://www.partypop.com/v/4094129.
Living The Dream Party Rentals is located in Riverside, California. The company offers everything from tents, tables, and chairs to inflatables and interactives. Along with the canopies and tents, customers can also get barrel covers, table leg covers, draping, lighting and more.
Living The Dream Party Rentals provides games, jumpers and combos, slides, concession machines (with supplies) for children's events, church events, and company picnics. Customers can also choose from multiple package deals including inflatables, party packages, or a canopy and tent package. Living The Dream Party Rentals can be contacted online at http://www.partypop.com/v/4251168.
About PartyPOP.com- the largest party, wedding and event planning online network:
Before the Internet era, the professionals at PartyPOP.com were successful hands-on party planners and special event producers. For more than a decade PartyPOP has translated 30 years of party planning experience onto the Internet. Millions of vendors are listed on the network consisting of 60+ websites and tens of millions of customers have used the network to plan their parties, weddings and events. PartyPOP.com also provides party and event related tips, themes and ideas, as well as a free full wedding planning software called Seating Arrangement.
About Free Printed Invitations by PartyPOP.com:
PartyPOP provides every bride and groom across the USA, Canada and the U.K. with free beautifully designed wedding invitations, printed on 80lbs card stock paper with matching envelopes and wedding website. Even door to door shipping is included at no cost. There are no hidden fees, no obligations to buy and no strings attached!
###