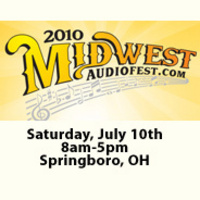 Springboro, OH (PRWEB) June 25, 2010
Parts Express, the leading distributor of professional, home, and mobile audio speakers, announces the 2010 Midwest Audio Fest formerly known as the annual tent sale. This year it is three events in one: The Parts Express Warehouse Tent Sale, the Speaker Design Competition and the Auto Sound Challenge. You can participate and win prizes or just soak in the exciting audio activities. There will be food, giveaways, displays from the best audio manufacturers in the country and incredible deals.
The Parts Express Warehouse Sale is the one chance each year to receive great savings on every item they carry at their retail store and warehouse. There will also be a selection of one of a kind samples, scratch and dent and factory buyout items all at the lowest prices ever. You can also see displays and the latest products from Dayton Audio, Atlas Sound, Caig, Peavey, SureHold, 3M, Crown, Tymphany, Velleman, Behringer, NTE, Sherwood and many more of the best names in audio electronics.
If you love building speakers or are just interested in some amazing designs you can take a look and listen to the Speaker Design Competition. Each speaker project will be evaluated by a panel of independent judges with prizes awarded to the winner in each of three categories.
Show off your system, or just get a good look at what all the fuss is about at the Auto Sound Challenge. Car audio systems from around the Mid-West will showing what they've got and letting you be the judge as to who has the best system.
Parts Express is the leading provider of Audio, Video and Speaker building components and solutions since 1986. With over 12,000 products in stock, we are proud to offer our customers, ranging from sound technicians to audio enthusiasts, the highest quality electronic parts and accessories. Parts Express is the authorized distributor for some of the most respected brands in the audio, video and speaker-building industry, including: Dayton Audio, Pioneer, Behringer, Eminence, and Peavey. The corporate office, warehouse and retail store are located in Springboro, Ohio, about 25 minutes north of Cincinnati.
# # #