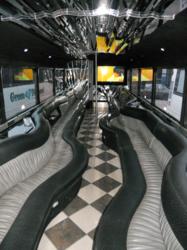 Why deal with trying to take multiple cars into town or designating a driver that may not be so sober after all
San Jose, CA (PRWEB) November 17, 2011
For the low rate of $45 per person and a minimum of 28 passengers on board, a group is entitled to the party bus's features and amenities on their way to any San Francisco night club. By mentioning this article, clients will receive a 24-pack of beer of their choice.
San Francisco party bus rental company, The Bay Party Bus is also offering a special promotion for birthday celebrations. The birthday celebrant will not pay for their seat and will receive a free 24-pack of beer. They will also receive better deals for larger parties - the more the merrier!
"Why deal with trying to take multiple cars into town or designating a driver that may not be so sober after all, thus you can save on parking fees and long walks while you leave it up to us to get you safely in and out of the city while providing an entertaining experience you'll never forget," says Raquel Flores of The Party Bus. "Also for your convenience we provide pick-up throughout the Bay Area."
Each San Francisco party bus features 42-inch and 20-inch plasma TVs playing hip-hop or pop music videos. There are also two stocked bars with vodka, rum, cranberry juice, coke and beer. Black and gray wrap-around seating accommodates up to 45 guests.
For more information about Bay Party Bus' rentals call 408-462-0931 or visit http://www.thebaypartybus.com. The Bay Party Bus is located at 250 Commercial St., San Jose, CA 95112.
About The Bay Party Bus
Bay Party Bus provides their clients with the best in transportation service. They specialize in group travel originating in the San Francisco Bay area. Their buses can add something extra to any party or event, including wine tours, prom night and night clubs, quinceaneras, sweet sixteen celebrations, weddings, bachelor and bachelorette parties, sporting events, music events, airport transfers and much more.
###