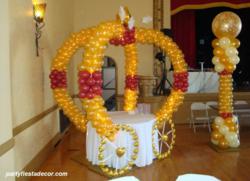 There's literally a foil balloon for almost every imaginable occasion or event
San Jose, CA (PRWEB) September 28, 2011
September may be the ninth month of the year, but it steps out of the shadow of January through August and takes center stage as International Balloon Month.
The month of September has been reserved for celebrating everything balloon, including on Labor Day when San Jose party decorations company, Party Fiesta pulled out all the patriotic stops with a nine-foot, red, white and blue floating column. The International Balloon Association (IBA) decided September was the perfect time to celebrate the beauty and celebratory nature of balloons. The IBA is a well-respected, non-profit trade association for distributors and manufacturers of balloons, balloon accessories and other support products used in the balloon industry, such as the army of talented balloon decorators, retailers and entertainers at Party Fiesta.
This history of the balloon began back in 1824 when the first rubber balloon was invented by London Professor Michael Faraday for use in an experiment with hydrogen. More than a century later, the amazingly-versatile foil balloons, known as mylars, came along to revolutionize celebrations forever. Now people can have wall-to-wall balloons, apes, zebras, balloon arches and everything in between.
"There's literally a foil balloon for almost every imaginable occasion or event," says Tony Sellars, co-owner and founder of Party Fiesta Balloon Decor. "They come in virtually every shape, size and color, even a pretty-in-pink pirate skull-and-crossbones mylar!"
For any future balloon and party needs, call the experts at Party Fiesta Balloon Décor at 408-292-6000 or visit them at 999 Lincoln Ave., San Jose. Visit them on the web at http://www.partydecorationssanjoseca.com.
About Party Fiesta
San Jose Party Fiesta Balloon Décor provides premium balloon arches and various styles of balloon décor. These handcrafted party decorations make great additions for Quinceañeras accessories and birthday parties, corporate events, family gatherings, weddings and theme parties.
###