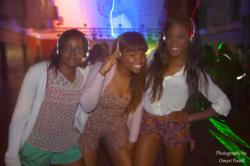 At first, when you see everyone dancing in silence you have to laugh.
Ithaca, NY (PRWEB) May 15, 2013
On April 25th, hundreds of Cornell University students came together for a live music event where the tunes were played to wireless headphones worn by everyone at the party. This event, called a silent disco, featured DJ Krossfire and special guests, and was made possible by an undergraduate student startup founded to rent silent disco headphones for unforgettable events.
"The silent rave event was awesome!" said Rachel Price, Class of 2015 President. "At first, when you see everyone dancing in silence you have to laugh. But as soon as you put on your headphones you just start dancing, too."
Silent disco is not new to the Cornell campus, however. Last August, the Orientation Steering Committee coordinated an 800-person event on the arts quad complete with beaming disco lights, screaming fans and all the excitement you'd expect from a freshman party.
This recent silent disco was a bit different than those in the past, however. At this event, Cornell University Class of 2015 partnered with Party Headphones, an undergraduate student startup, to rent silent disco headphones. The company is part of Cornell's eLab Incubator and was founded by Christopher Strayer (class of 2013), Eric Hoffman (class of 2013) and Jacob Reisch(class of 2014). According to the team, the company formed in response to the growing demand for silent disco equipment and technology.
"The analytics are clear – silent disco is on the upswing", said Reisch, CEO of Party Headphones. "And since we've entered the market early and partnered with the industry's leading equipment provider, we can offer the highest quality headphones available," he added.
Silent disco is an event concept that started in the Netherlands in 2002 and quickly became popular in Europe and Australia. Having recently made its way to the United States, Reisch and partners saw a business opportunity they couldn't resist. Having now worked with clients such as the Museum of Modern Art, CareerBliss and Elon University to rent silent disco headphones, Party Headphones plans to become a major player in the live entertainment scene.
About Party Headphones
Party Headphones specializes in working with party planners and event production companies who want to host their own silent disco and need to rent silent disco headphones. The silent disco headphones have personal volume control, dual channel transmission and an LED indicator light to show who is listening to which channel. All systems are simple to use and connect to laptops, mixers, iPods and high-end stereo equipment.