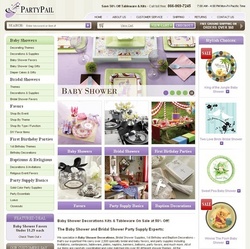 We are so proud of our team's accomplishments
Enumclaw, WA (Vocus) October 21, 2010
PartyPail, Inc. today announced the celebration of its 100,000th customer shipment by expanding the company's products offerings in new celebration categories. Growing from zero to 100,000 customers in less than four years, the company has experienced fantastic growth, and achieved its success at a time when most retailers are experiencing declines in revenue.
"We are so proud of our team's accomplishments" shared company CEO Edward Hechter. "Our growth from a single website to six has necessitated that we relocate the business twice in the past 3 years to accommodate our growth. The team has done this, while delivering amazing levels of service to our clients.
The company's flagship website PartyPail.com prominently features baby shower decorations and party favors, plus a variety of decorations for other early adult life milestone celebrations including bridal showers, first birthdays, and weddings. Launched in 2007, the company shipped two orders on its first day of operations, and has grown significantly and consistently since then.
A key to success for the company has been to focus on specific product categories, and provide best in class product selection, combined with discount pricing and amazing levels of customer service. A great example of how the company has evolved is its offering of christening and baptism party decorations. The company carries an extensive line of tableware, invitations, decorations, and favors, merchandised on the site in a way that imparts ideas and advice to the consumers who shop there.
"Our commitment to innovation has been a key to our success. We've invested heavily in the several redesigns of our flagship store, each time adding additional functionality designed to improve the shopping experience for our clients" continues CEO Hechter. "We have placed a specific focus on improving the way we present products that can be personalized, such as party favors, to make it easy for customers to quickly customize their products, and understand exactly when these one of a kind offerings will arrive."
Striving to differentiate itself from other party supply retailers, the company has invested in products many traditional brick and mortar retailers are simply unable to offer easily. The company expansion of its facilities over the years has enabled it to carry more baby shower themes than any other retailer. In some specific theme categories, it is able to offer multiple options. For instance, PartyPail's offering of jungle and safari baby shower decorations includes seven unique themed patterns, with hundreds of product options for clients to choose from.
In coming months, PartyPail intends to extend its product line into new categories either via its flagship store, or new e-Commerce properties devoted to specific categories. Each new expansion will be built on the company's foundation of customer service excellence, product fulfillment accuracy, and discount pricing.
About PartyPail, Inc.:
PartyPail, Inc. operates from offices in Enumclaw, Washington. The company operates six e-commerce retail party decoration websites with a focus on adult milestone celebrations such as weddings, baby showers, baptisms, bridal showers, mature aged birthdays, and 1st birthday parties. Having served over 100,000 customers, the company is committed to operating as a family friendly organization to both customers and staff alike.
All trademarks used are properties of their respective owners.
###