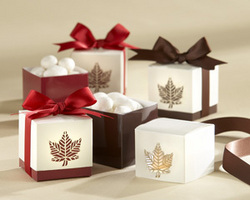 Schwenksville, PA (PRWEB) September 14, 2009
Party favors and gifts are a component of almost every party. With the launch of ALovelyFavor.com and Shop.ALovelyFavor.com, the consumer can find creative ideas, prepared favors, and gifts readily available for their next event. In some form or another, each person appreciates the guests or host with homemade cooking, a creative curio, a gift, or blessed memories. Each party involves special attention to the guest and gratefulness for their appearance. Whether it is the guest, host, or party planner, A Lovely Favor LLC has a vast variety of suggestions and ideas to complete the next event.
A Lovely Favor LLC is... the Key to Any Party. Since its founding, A Lovely Favor has remained faithful in its commitment to produce a celebratory experience based on its collection and creativity. Whether planning a baby shower, anniversary, small wedding, or surprise birthday party, A Lovely Favor is an innovative, online, party resource to attend to all party needs.
As an invite to the site, and a special thanks to new and returning customers, A Lovely Favor LLC presents "Decide Your Savings!" coupons. The coupons offer 5, 10, and 25 percent off purchases, or free shipping. A Lovely Favor understands that every order is different, and one coupon may work better than another for the consumer. As well as the coupons, the site is also offering quantity-based savings on selected favors. Buy more favors, and the price will decrease by the amount ordered. Log on and discover the ideas and savings A Lovely Favor LLC has to offer.
For more information on party favors, party ideas, bridesmaid gifts, baby gifts, bridal accessories, and more, visit ALovelyFavor.com or Shop.ALovelyFavor.com.
# # #