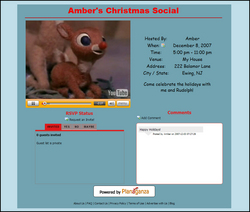 There has not been one site that guides a user through all of the major steps of planning within a blended community of vendors and hosts until now
Columbia, MD (PRWEB) December 10, 2007
Mind Conceive, Inc. today announced the launch of Planaganza.com, a new social community for event planning to help streamline the event planning process. The site relies on the premise that everyone loves attending well-planned events but most people dread planning them. With all the separate resources needed, planning an event can easily take months. Planaganza seeks to cut down this time dramatically by focusing event hosts on three major steps to plan any event:
1. Invite and track guests
2. Gather and organize ideas for décor, theme and activities
3. Research and purchase event supplies and services
By narrowing event planning down to three defined steps, Planaganza helps hosts avoid feeling overwhelmed by the process. The site offers several tools to facilitate planning simplicity and efficiency including a built-in network of event vendors. Hosts can ask questions and trade ideas with vendors on everything from décor trends to venue selection directly on the site. Other key features include:

Electronic invitations that allow the upload of multimedia such as video and widgets
Photo inspiration gallery and planning articles
Access to vendor ratings and reviews
Tickets for major sporting events or concerts
The opportunity for planners to promote events to other members
Overall, Planaganza.com allows vendors and hosts alike to seek out the people they want to collaborate with to plan events. "There has not been one site that guides a user through all of the major steps of planning within a blended community of vendors and hosts until now," says Shar Scott, co-founder and CEO. "There are several electronic invitation sites, numerous vendor directories and tons of online gift shops and ticketing sources, but there is not one place that combines all of these elements to make one comprehensive planning experience. That's where Planaganza comes in."
To sign up for a free Planaganza member account visit http://www.planaganza.com.
About Mind Conceive, Inc.
Mind Conceive, Inc is a media and technology company focused on building properties that streamline content delivery in the lifestyle and event management industries. Founded by entrepreneurs and technologists from Cornell University and Dartmouth College, Mind Conceive draws on the viral nature of social media and Web 2.0 technologies to redefine the way people access, process, and utilize information for their day to day lives. Mind Conceive is located in Columbia, MD. To learn more, visit http://www.mindconceive.com.
Company Contact:
Shar Scott
Mind Conceive, Incorporated
410-782-3713
###