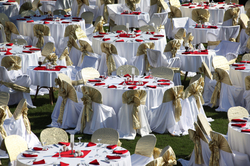 Greensboro, NC (PRWEB) September 23, 2009
Grand Rental Station recently announced that it has expanded its rental offerings to include party rentals in Greensboro. Since 1999, Grand Rental Station has offered rentals to the construction industry, landscapers, and DIY homeowners. General Manager Mark Whitesell says the expansion was a natural progression for the company.
"With our established reputation for customer service, extensive inventory, and equipment reliability, we saw a gap in the market for party and wedding rentals market and reached out to fill it. We've reached out to event and wedding planners, country clubs, caterers, and the response has been tremendous since a 'soft launch' earlier this year."
Beverly Nunn, owner of Celebration Designs and Rentals, provides creative design services for weddings, parties, and other events. Nunn had previously rented tools and equipment from Grand Rental Station and was happy to hear about the expansion. "I have always been pleased with their consistency in providing quality rentals; the tools were always so well maintained. And the new Party Plus rentals are also great - good inventory and excellent service!"
Party Plus by Grand Rental Station offers tents, chairs, tables, table cloths, floors, china, glassware, beverage fountains, linens, stages and red carpets to create an unforgettable event for any special occasion. "When most people think party rentals, they may think of weddings, anniversaries, and more formal occasions," says Whitesell. "But we're also offering moonwalks and concession machines like frozen drinks, hot dog, and popcorn for children's entertainment and family activities."
The expansion into this new market includes the addition of in-house event and wedding planning coordinators. Grand Rental Station is using the latest in event planning software to provide planners with a detailed personalized event set-up, with a wide selection of samples to choose from. For more information, visit our Party Plus by Grand Rental Station website, or call (336) 852-0881.
###