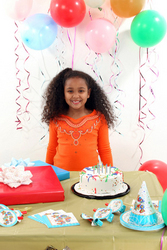 Deerfield, Illinois (PRWEB) July 7, 2009
Working women, a home school mom, an expectant working mother of twins, a soon to be bride and graduate, and a first time grandma all have in common? They are all busy women who want a one-stop online site for all their birthday party supplies and "how to" ideas for birthday party themes, decorating and favors.
These women are too busy to hop from site to site to find the best kid's birthday party supplies. That's why BirthdayPartyKidz.com was designed by seasoned party planner, party store owner, and website producer, Laurie Cohen of Deerfield, IL: "I wanted to create ONE place for busy women to shop for all of kid's birthday party supplies. Not just invitations, but the entire party process, like party decorating ideas, great birthday party favors, unique birthday party crafts and activities and more", says Cohen. Cohen even hired a working mom with three kids to help with the original crafts, decorations and activities pages!
Using her extensive experience as a party store owner and party planner, Cohen, scans the web daily bringing the best ideas and products to her site's visitors. A business owner, busy mom and grandmother, Cohen knows how important it is to save time. That's why she created BirthdayPartyKidz.com's interactive search capability. From the search box on almost every page, site visitors can search birthday party themes, like safari, cars, and zoo or by characters, like Bob the Builder, Thomas the Train, Disney Princess Party, or Fancy Nancy. If visitors have a particular color in mind, they can search for "red plates" or "pink tutu." The interactive search is available on all product pages and allows visitors to find EXACTLY what they need WHEN they need it and they can compare pricing from different web merchants. Thanks to the experiences of a real mom, organizing a kid's birthday party couldn't be easier than at BirthdayPartyKidz.com.
About Laurie Cohen
Laurie Cohen has been an entrepreneur for over thirty years. As a wife, mother, and grandmother of seven, she has coordinated and hosted parties of all kinds. For over ten years she entertained at children's birthday parties all over Chicago's North Shore and owned her own party planning and talent booking agency, Kreative Parties, Inc. in Northbrook, IL from 1980-1993.
With intelligence and great wit, she generously shares her experience with her subscriber community. In 2007, Cohen developed ForBrideandBaby.com and leveraged her twenty years of experience in creative party planning to bring the website, geared to brides, moms-to-be, and new mommies to life. Now, in 2009, Cohen has developed her new website, BirthdayPartyKidz.com to help her women throw the best birthday parties. She is currently developing a new site, Celebrationz4U.com, combining the sites above plus HalloweenKidz.com into one site for all occasions. Cohen hopes that women everywhere will share all life's celebrations with her!
###