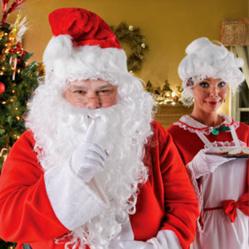 SantaCon is a worldwide event comprised of many local gatherings of Santa, elf, and Christmas costume themed activities.
Rockaway, NJ (PRWEB) December 01, 2011
America's premier party supplies retailer, Party City, today announced a new partnership with SantaCon.info, the most complete resource for SantaCon events on the Internet. SantaCon is a massive gathering of Santas taking place around the world. Throughout the holiday, hundreds of lively people dressed in Santa costumes gather to celebrate the holiday season with cheer and goodwill. This year, Party City joins the festivities, sponsoring the SantaCon.info website and offering a Party City coupon to purchase quality Santa costumes.
This new Christmas tradition originated in San Francisco in 1994 and is now an international phenomenon occurring in 28 countries. One of the largest SantaCon gatherings occurs annually in New York City's Central Park, and the Guinness World Record for the largest SantaCon event occurred in Ireland in 2007 with more than 13,000 men, women and children dressed in Santa costumes. No matter where SantaCon takes place, merry mobs of Santas "paint the town red" with Christmas carols, public parades, small gift giving, and bar-hopping. Mass gatherings of SantaCon fans are also known to ice-skate, run or walk marathons, dance through department stores, or fill bus and subway cars.
SantaCon-goers love dressing in unique costumes, and Party City offers a huge assortment of holiday costumes and creative Santa costume ideas and party ideas to go with them. Men typically wear everything from classic Santa suits and funny Santa hats to creative Vegas Santa Christmas costumes and reindeer outfits. Women also participate in the festivities with sexy Santa costumes, elf costumes, reindeer horns and boas. Even pets can partake in SantaCon merriments, with Christmas dog costumes displayed alongside costumed dog owners.
To learn more information or to join local SantaCon festivities, visit SantaCon.info for dates and meeting places.
ABOUT PARTY CITY
Party City Holdings Inc. designs, manufactures, contracts for manufacture and distributes party goods, including paper and plastic tableware, metallic balloons, accessories, novelties, gifts and stationery. Party City Holdings Inc. also operates retail party goods and social expressions supply stores in the United States under the names Party City, Halloween City and Factory Card & Party Outlet. We believe Party City is America's largest party goods chain and the country's premier retailer of Halloween costumes, theme party supplies, birthday decorations and other specialty party supplies.
###