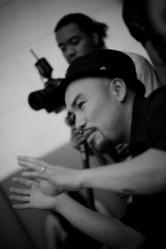 Other fashion schools have classes that teach about denim fabrics and washes, but this will be the first course exclusively focused on designing jeans
San Francisco, CA (PRWEB) April 14, 2012
This fall, the Academy of Art University of San Francisco will expand its fashion design curriculum to include its first comprehensive designer jeans course. Created by the Academy's Menswear Design professor Tommy Pham, Denim Design will teach aspiring fashion design students everything from the history of denim and jeanswear to how to create and market their own denim collection.
Pham is one of the industry's most well-rounded trendsetters. The San Francisco fashion designer recently developed his own innovative line, Grp.E Jeans, after designing for major brands like Ecko Unlimited and Express and for celebrities like rappers 50 cent and L.L. Cool J.
Academy of Art University San Francisco is one the forefront of fashion design education. It is the first and only educational institution whose School of Fashion MFA graduates have the opportunity to showcase their graduate collections during Mercedes Benz Fashion Week in New York City.
"Other fashion schools have classes that teach about denim fabrics and washes, but this will be the first course exclusively focused on designing jeans," said Pham. "This isn't just theory. Students will study the history of denim, top designers and brands—then they will create their own designer jeanswear collection."
About Tommy Pham
Tommy Pham began his design career at American Eagle Outfitters as an assistant designer, where he learned about denim fabric under the guidance of Charlotte Rakowski, who later created the Converse by John Varvatos Collection. Pham moved on to Ecko Unlimited, working as a designer with creative director Crystal White and launching G-Unit Women's apparel for rap artist 50 cent. G-Unit Women's pioneered the move of urban junior's clothes to a more contemporary aesthetic.
Pham became denim consultant for Todd Smith and spearheaded the creation of premium jeans for the L.L. Cool J designer label. He then served as senior denim designer for Express, where he created the ubiquitous "Horizon" back pocket embroidery for the brand and introduced premium jeans to the merchandise mix through innovative garment marketing, fabric, fit and finish.
Pham is now CEO, co-founder and the designer of his own company, San Francisco-based Grp.e Jeans.
About Grp.E Jeans
Grp.E (pronounced like groupie) is the lifestyle clothing brand launched in 2010 by celebrated San Francisco clothing designer Tommy Pham for men and women who love to work hard…and play even harder. In the Grp.E brand, Pham—the clothing designer behind the LL Cool J and G-Unit (by 50 Cent) brands of designer jeans—has created the perfect party wear for the up-all-night rockstar, with great fitting jeans that are comfortable, tough, and come off in a snap.
The "E" in the name makes it clear that Grp.E is for everyone—and everyone has the right to party and have fun while living on this green earth. The Grp.E brand communicates that everyone is at once the same and unique. Each pocket bag is printed with the phrase "Everyone's Pink Inside" and the asterisk logo, the symbol of ambiguity, lets every wearer decide what statement they are making.
To inquire about carrying the Grp.E line or for more information about Grp.E Jeans, call (415) 891-7888 or visit them on the web at grp-e.com. To keep current on special events and promotions, like Grp.E on Facebook at facebook.com/grpes and follow them on Twitter twitter.com/GrpEjeans.