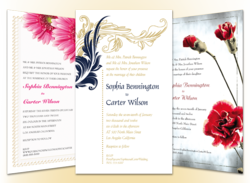 PartyPOP continues to expand its network of more than 2 million party,wedding and event vendors.
(PRWEB) March 21, 2012
PartyPOP.com recently made headlines by giving out free wedding invitations to any bride and groom in the United States, Canada, and the United Kingdom. PartyPOP.com already features more than two million special event professionals and is expanding every day with vendors listing their businesses on the network. Many of the party planning and special events professionals who have partnered with PartyPOP.com are now able to offer potential clients the same free wedding invitations.
PartyPOP.com features highly accomplished and professional companies with a proven track record of success and customer satisfaction. Some of these companies include He Loves Me Knot Productions, Harris Academy of the Arts, Tents & Events and Channel Islands Helicopters.
Harris Academy of the Arts (HAA) was established in 2004 under the name "Harris Music Studio". Since then the company has grown into one of the largest music studios in Lincoln, Nebraska providing music lessons in a positive leaning environment for the entire family. At HAA, University trained instructors focus on each individual student helping them understand technique, set achievable goals and develop talent.
Harris Academy of the Arts offers a variety of features including private lessons for almost 20 instruments. Also available are group, family and ensemble sessions. The company also offers exclusive classes in Children's Music Academy that specializes in teaching music to children in a fun and lively classroom setting. From newborns to adults, novice to expert, all ages and skill levels will find a positive experience at Harris Academy of the Arts. Find Harris Academy of the Arts online at http://www.partypop.com/v/4341135.
As a division of Baraboo Tent & Awning, Inc., Tents & Events has been the premier local rental supply company in Baraboo, Wisconsin since 1982. The company provides affordable tents to any outdoor event and special occasion. All tent rentals are delivered on location and include set-up and take-down.
Two of the most popular choices are the Graduation Tent packages that fit up to 80 people as well as the Wedding Packages that are designed to fit up to 300 people. Tent & Events Managers can also assist customers with suggestions for wedding locations, receptions, and other wedding and event ideas. The company also offers party supplies for all outdoor party needs including dance floor, sound system rental, lighting and linens, as well as tables, chairs, and staging rental. Contact Tents and Events online at http://www.partypop.com/v/4068938.
He Loves Me Knot Productions has been specializing in wedding films, photography and formal hair and makeup services in San Antonio, Texas for more than 10 years. Established in 2000 to serve the Houston area, He Loves Me Knot Productions has now grown throughout the San Antonio, Austin, Houston and Dallas markets.
Shan Carratala is the Stylist Director and Owner of He Loves Me Knot Productions. She has a professional background in Styling for Bridal Runways, Model Photo Shoots, as well as Hair, Makeup and Wardrobe Styling for TV, Movie and Music Video sets. The company's design team stays informed of all the latest trends and attends regular trainings to keep their skills sharp. For more detailed information on the company visit http://www.partypop.com/v/4381312.
About PartyPOP.com- the largest party, wedding and event planning online network:
Before the Internet era, the professionals at PartyPOP.com were successful hands-on party planners and special event producers. For more than a decade PartyPOP has translated 30 years of party planning experience onto the Internet. Millions of vendors are listed on the network consisting of 60+ websites and tens of millions of customers have used the network to plan their parties, weddings and events. PartyPOP.com also provides party and event related tips, themes and ideas, as well as a free full wedding planning software called Seating Arrangement.
About Free Printed Invitations by PartyPOP.com:
PartyPOP provides every bride and groom across the USA, Canada and the U.K. with free beautifully designed wedding invitations, printed on 80lbs card stock paper with matching envelopes and wedding website. Even door to door shipping is included at no cost. There are no hidden fees, no obligations to buy and no strings attached!