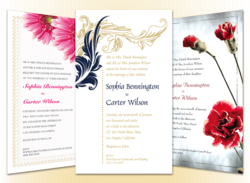 PartyPOP.com features professional companies in the event industry that provide high quality services for its customers.
(PRWEB) March 16, 2012
PartyPOP.com recently made headlines by giving out free wedding invitations to any bride and groom in the United States, Canada, and the United Kingdom. PartyPop.com already features more than two million special event professionals and is expanding every day with vendors listing their businesses on the network. Many of the party planning and special events professionals who have partnered with PartyPop.com are now able to offer potential clients the same free wedding invitations.
PartyPop.com features highly reputable and professional companies with a proven track record of success and customer satisfaction. Some of these companies include: Seek New York LLC and Creation Craze Studio
Located in New York City, Seek New York LLC focuses on providing personalized services to a broad audience. Ranging from tight budget job-seekers to couples planning their big day, Seek New York LLC provides a wide range of in-person and virtual services E.G., personal shopping, gift-buying, and image consulting for artists to name a few. Seek New York LLC, will also help you edit your online dating profile and update your wardrobe on a budget.
The company also offers a large selection of New York shopping tours to first time visitors and locals alike. While established tour packages are available, personalized itineraries can be tailored to each patron's individual interests and/or requests. All tours are led by a licensed New York City sightseeing guide with years of experience. The company can be contacted online at http://www.partypop.com/v/4381310.
Creation Craze Studio is a "paint your own pottery and crafts" studio with activities for all ages and skill levels. Located in Bakersfield, California, the company fosters a creative environment with hundreds of items to choose from. Creation Craze Studio also brings the fun and learning to you by decorating private parties and special events, as well as organizing and facilitating family activities.
Creation Craze is an official Disney Licensed bisque supplier; so, patrons are able to paint and draw their favorite Disney characters. Other available activities include, pottery painting, "paint me shirts", and on-site parties. Creation Craze is also proud to host The Lakeside Pool Project and annual summer camps. More information about Creation Craze Studio can be found at http://www.partypop.com/v/4351600.
PartyPOP.com- the largest party, wedding and event planning online network:
Before the Internet era, the professionals at PartyPOP.com were successful hands-on party planners and special event producers. For more than a decade PartyPOP has translated 30 years of party planning experience onto the Internet. Millions of vendors are listed on the network consisting of 60+ websites and tens of millions of customers have used the network to plan their parties, weddings and events. PartyPOP.com also provides party and event related tips, themes and ideas, as well as a free full wedding planning software called Seating Arrangement.
About Free Printed Invitations by PartyPOP.com:
PartyPOP provides every bride and groom across the USA, Canada and the U.K. with free beautifully designed wedding invitations, printed on 80lbs card stock paper with matching envelopes and wedding website. Even door to door shipping is included at no cost. There are no hidden fees, no obligations to buy and no strings attached!