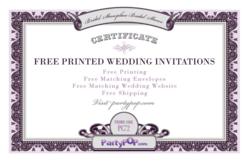 More professionals are joining PartyPOP.com the largest online network for party, wedding and event planning.
(PRWEB) April 05, 2012
PartyPOP.com recently announced free wedding invitations and an RSVP website for any engaged couple in the United States, Canada and the United Kingdom. The company has re-purposed their 2012 marketing budget in hopes of building brand awareness and loyalty. According to reports from within the Southern California based company, it's working.
PartyPOP.com features over 2 million highly accomplished and professional companies in the event planning industry. Some of these companies include Juggler Bob, River City Attractions, The Texas Loo and Beverage Events.
Juggler Bob serves customers nationwide and has entertained audiences internationally. He got an early start as a young boy when he took a course in juggling, which has led him into a remarkable career. A talented and funny juggler, Juggler Bob is considered the world's strongest juggler. He has entertained millions of people, both live and on international television.
Juggler Bob has achieved international recognition with his award winning shows. He currently performs a combination comedy-juggling show with music and audience involvement. The show has taken him on three European tours, two performances at the White House, the Pentagon and has won him top honors in the International Jugglers Association's competition. Most recently Juggler Bob appeared on two of the nation's highest rated TV shows, America's Got Talent and Last Comic Standing. He is also involved in 650 school assemblies programs in over 20 states. More information can be found online at http://www.partypop.com/v/4377068.
Serving San Antonio and Surrounding Areas, River City Attractions, A.K.A. Wilbanks Concessions is located in San Antonio, Texas. Elaine Wilbanks, the owner and operator of River City Attractions, has been in the amusement industry for forty years and offers exciting and affordable carnival style rides, games and food. With entertainment for all ages, River City Attractions specializes in school carnivals, church festivals, company picnics, and one day events.
All of the company's rides are inspected by Certified Texas Ride Inspectors. Fully insured, the company emphasizes safety and is mindful of their surroundings. River City Attractions has rides for the young and the young-at-heart. Some of the carnival rides include Mindwider Thrill Ride, Nascar Tubs of Fun, Rock Climbing Tower and more. Also offered are carnival style games and prizes that will entertain kids of all ages. River City Attractions can be found online at http://www.partypop.com/v/4263319.
The Texas Loo is a full service mobile restrooms company committed to providing upscale mobile restroom trailers to serve event guests. Whether your event is an intimate outdoor wedding, private party, building remodel, large festival, or event, The Texas Loo can provide a wide variety of models to choose from, including fully ADA compliant handicapped accessible models.
All Royal Restrooms provided by The Texas Loo feature flushing porcelain toilets, stainless steel running water sinks, mirrored vanities with granite countertops, air conditioning and heat as well as interior and exterior lighting, decorator accessories, hand soap, hand towels, area rugs and mints if requested.
Perfect for weddings and high-end VIP and black tie events, the Three Room Platinum edition is most popular amongst upscale events. The Platinum edition features wood floors and cabinets, beautiful granite counter tops and background music provided by an internal stereo system. The Texas Loo also offers the Three Room Standard model that is the most popular choice for weddings and private functions. The company also services long term temporary restrooms for sports facilities, golf tournaments, business remodel and more. Other mobile restrooms include ADAs with two rooms, the Two Room Standard model, and the Three Room Shower and Restroom Combination. The Texas Loo can be contacted online at http://www.partypop.com/v/4347915.
Beverage Events is located in Newton, Massachusetts and has been providing professional services since 1998. The company provides fully insured and certified bartenders that arrive with their own tools and turn- key beverage catering. Services are provided at a variety of events that include weddings, bar and bat mitzvahs, schools and universities, corporate functions, at home, at non profits and more.
Customers can choose from classic cocktails, summer refreshers, south of the border as well as 'tinis and 'hattans, or the sommelier's wine adventure. Patrons can use their own furniture or choose from the company's portable bars, designed to work with customer's décor. Available bars are old world, classic, or contemporary, with many choices of color and design. If requested, Beverage Events also provides international flambéed coffees after dinner or a rolling cart with after dinner cordials. For more information click http://www.partypop.com/v/4090122.
About PartyPOP.com: the largest party, wedding and event planning online network:
Before the Internet era, the professionals at PartyPOP.com were successful hands-on party planners and special event producers. For more than a decade PartyPOP has translated 30 years of party planning experience onto the Internet. Millions of vendors are listed on the network consisting of 60+ websites and tens of millions of customers have used the network to plan their parties, weddings and events. PartyPOP.com also provides party and event related tips, themes and ideas, as well as a free full wedding planning software called Seating Arrangement.
About Free Printed Invitations by PartyPOP.com:
PartyPOP provides every bride and groom across the USA, Canada and the U.K. with free beautifully designed wedding invitations, printed on 80lbs card stock paper with matching envelopes and wedding website. Even door to door shipping is included at no cost. There are no hidden fees, no obligations to buy and no strings attached!