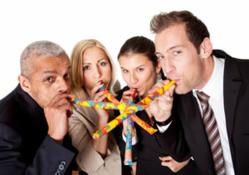 PartyPOP.com is expanding its network of over 2 million party, wedding and event vendors.
(PRWEB) March 08, 2012
PartyPOP.com features more than 2 million party, wedding and event professionals and is expanding daily, as vendors list their businesses on the network. These professionals include a diverse combination of experts, such as Houston Party Rental, an event and party rental super warehouse. The company provides inflatables and party equipment for a variety of events and occasions. Some of them include sports events, birthday parties, family reunions, corporate events and church festivals. Houston Party Rental's equipment consists of moonwalks, waterslides, mechanical bulls and more. The company offers delivery and pick up options and is fully insured. Houston Party Rental can be contacted online at http://www.partypop.com/v/3161677.
Blueline Security Services is a private security firm providing commercial clients with armed and unarmed security guard services in Maryland, Washington, D.C. and Virginia. The company was formed in 2008 by four active duty law enforcement officers. They provide event security, executive and dignitary protection services, apartment security, office and commercial security services, bank security, restaurant and bar security, as well as security related training throughout the Washington Metropolitan area. Additionally they also provide executive protection services, bomb and drug K9's, security related training, video surveillance equipment, and private investigations. They can be found online at http://www.partypop.com/v/4381027.
About PartyPOP.com- the largest party, wedding and event planning online network:
Before the Internet era, the professionals at PartyPOP.com were successful hands-on party planners and special event producers. For more than a decade PartyPOP has translated 30 years of party planning experience onto the Internet. Millions of vendors are listed on the network consisting of 60+ websites and tens of millions of customers have used the network to plan their parties, weddings and events. PartyPOP.com also provides party and event related tips, themes and ideas, as well as a free full wedding planning software called Seating Arrangement.
About Free Printed Invitations by PartyPOP.com
PartyPOP provides every bride and groom across the USA, Canada and the U.K. with free beautifully designed wedding invitations, printed on 80lbs card stock paper with matching envelopes and wedding website. Even door to door shipping is included at no cost. There are no hidden fees, no obligations to buy and no strings attached.