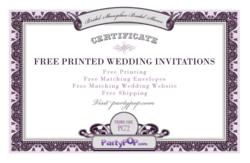 PartyPOP features over two million highly accomplished and professional companies in the party, wedding and event industry
(PRWEB) April 14, 2012
PartyPOP.com recently announced free wedding invitations and an RSVP website for any engaged couple in the United States, Canada and the United Kingdom. The company has re-purposed their 2012 marketing budget in hopes of building brand awareness and loyalty. According to reports from within the Southern California based company, it's working.
PartyPOP.com features over 2 million highly accomplished and professional companies in the event planning industry. Some of these companies include The Full Count Big Band and The Tuxedo Wearhouse.
The Full Count Big Band is available to play music for any occasion in New Jersey and New York City. The Band is an 18-piece orchestra that has been performing together for over a decade and is dedicated to fulfilling customer's musical event needs. With a strong performance history including the NJPAC in Newark, numerous charity and fundraising events, weddings, street fairs, dances and concerts, The Full Count organization is a very professional musical entertainment group.
Whether it is a single piano player, a three or four piece group with a vocalist or the vibrant and exciting sounds of a complete Big Band, Full Count is sure to have exactly what customers are seeking. With a library of over 5,000 arrangements, the Full Count Big Band provides an eclectic mix of big band music ranging from the Swing Era classics to more contemporary jazz, Latin, rhythm and blues, funk and rock. Regardless of musical style, the instrumentation of saxophones, trumpets, trombone and rhythm provides unrivaled harmonic and rhythmic excitement that will keep guests entertained and set the mood for any event. For more information click http://www.partypop.com/v/4381704.
The Tuxedo Wearhouse – a legend for 25 years in the tuxedo rental business, is located in Provo, Utah. Since he began over 25 years ago, founder and CEO, Brent Hazen has been delivering high quality tuxedos to customers anywhere in Utah and even worldwide. Customer satisfaction is the center of the company's core values. Tuxedo Wearhouse also offers fixed budget friendly options for all styles. Customers who have been fitted and tailored to by Tuxedo Wearhouse always enjoy the quality of the products and exceedingly personalized customer service they receive. Every year, thousands of customers for weddings, prom, cruises and other events choose Tuxedo Wearhouse to fulfill their personal needs for perfect formal wear. More information can be found http://www.partypop.com/v/3052772.
About PartyPOP.com: the largest party, wedding and event planning online network:
Before the Internet era, the professionals at PartyPOP.com were successful hands-on party planners and special event producers. For more than a decade PartyPOP has translated 30 years of party planning experience onto the Internet. Millions of vendors are listed on the network consisting of 60+ websites and tens of millions of customers have used the network to plan their parties, weddings and events. PartyPOP.com also provides party and event related tips, themes and ideas, as well as a free full wedding planning software called Seating Arrangement.
About Free Printed Invitations by PartyPOP.com:
PartyPOP provides every bride and groom across the USA, Canada and the U.K. with free beautifully designed wedding invitations, printed on 80lbs card stock paper with matching envelopes and wedding website. Even door to door shipping is included at no cost. There are no hidden fees, no obligations to buy and no strings attached!