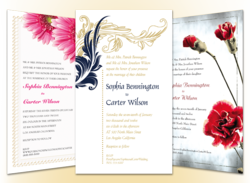 PartyPOP features dedicated vendors in the party, wedding and event industry.
(PRWEB) May 14, 2012
PartyPOP.com recently announced free wedding invitations and an RSVP website for any engaged couple in the United States, Canada and the United Kingdom. The company has re-purposed their 2012 marketing budget in hopes of building brand awareness and loyalty. According to reports from within the Southern California based company, it's working.
PartyPOP.com features over 2 million highly accomplished and professional companies in the event planning industry. Some of these companies include McLean Avenue, Birthday Boutique-Fabulous Party Themes for Kids, Mad Science of St. Louis and All Animal Productions.
McLean Avenue is a collection of well-known Irish/Celtic performers in the New York area. The group specializes in festivals, weddings and parties around the world, covering Celtic, Irish and Pop music. McLean Avenue carefully blends traditional Irish tunes, waltzes and upbeat hits with the dancing songs of today's modern world music. With years of experience as musicians and stage performers, clients will have a combination of professionalism and talent when booking the band. Together, they combine tradition with masterpieces and form a dynamic super-band sound. McLean covers all aspects of music and can tailor music sets to suit the needs of clients at a price that fits any budget. More information can be found online at http://www.partypop.com/v/4118142.
Birthday Boutique-Fabulous Party Themes for Kids is a nationwide children's party company committed to bringing fun and excitement in a variety of ways to any memorable event. Rather than a uniform "24/7 warehouse shelf" approach, the company specializes in tailoring a unique party experience both creative and personalized to what customers envision. From games to party favors, invitations to costumes, Birthday Boutique is a full service company. Popular "Party to Go" packages include Diva Glitter 'n Glam Party, Teacups and Tiaras, Glitz and Gloss Spa Party, Spy Adventure, Superheroes, Pirate Adventure and more. The Bear Friends Factory To Go is among the most popular party. Birthday Boutique provides everything needed to create many different stuffed animals. More information can be found at http://www.partypop.com/v/4051695.
Mad Science of St. Louis offers a large selection of after-school, preschool, summer and vacation programs, workshops, special events and birthday parties. From educational children's programs to educational entertainment, Mad Science sparks imaginative learning. All programs are animated on-location by highly trained professional instructors equipped with awe-inspiring gear.
The company has won multiple awards including the Best St. Louis Party Entertainers Award. Instructors mix exciting science demonstrations and experiments with interactive hands-on activities to entertain and educate children. Science themed shows are designed to amaze an audience of a size at school and camp assemblies, scout activity days, grand opening events, holiday, birthday and block parties, street fairs, schools, and carnivals. More information can be found online at http://www.partypop.com/v/4066719.
Located in Hesperia, California, All Animal Productions offers comprehensive animal event planning services perfect for any occasion. The company specializes in enhancing special events with the presence of beautiful and safe animals. Popular choices for weddings include white dove or butterfly releases and carriage rides. For corporate events and private parties All Animal Productions can provide reptiles, exotic birds, forest creatures and even African cats and jungle animals.
Services for corporate functions include: photo booths, animal shows, pony rides, petting zoo, and animal exhibits. For private parties, All Animal Productions suggests theme parties. Jungle party, Rainforest Party, Zoo Party, and African Party are just some suggestions. Other popular themes are Australian Parties or the Lions, Tigers and Bears - Oh My party. All Party Productions has a longstanding relationship with multiple dedicated and excellent service providers. These relationships make sure All Animal Productions can service any event with animals their client's desire. More information can be found online at http://www.partypop.com/v/4357140.
About PartyPOP.com: the largest party, wedding and event planning online network:
Before the Internet era, the professionals at PartyPOP.com were successful hands-on party planners and special event producers. For more than a decade PartyPOP has translated 30 years of party planning experience onto the Internet. Millions of vendors are listed on the network consisting of 60+ websites and tens of millions of customers have used the network to plan their parties, weddings and events. PartyPOP.com also provides party and event related tips, themes and ideas, as well as a free full wedding planning software called Seating Arrangement.
About Free Printed Invitations by PartyPOP.com:
PartyPOP provides every bride and groom across the USA, Canada and the U.K. with free beautifully designed wedding invitations, printed on 80lbs card stock paper with matching envelopes and wedding website. Even door to door shipping is included at no cost. There are no hidden fees, no obligations to buy and no strings attached!