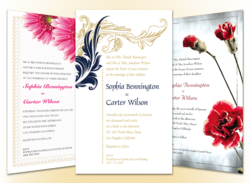 PartyPOP.com features professional and dedicated vendors in the party, wedding and event industry.
(PRWEB) May 15, 2012
PartyPOP.com recently announced free wedding invitations and an RSVP website for any engaged couple in the United States, Canada and the United Kingdom. The company has re-purposed their 2012 marketing budget in hopes of building brand awareness and loyalty. According to reports from within the Southern California based company, it's working.
PartyPOP.com features over 2 million highly accomplished and professional companies in the event planning industry. Some of these companies include Caterwear, Pink Princess, Party Favor Mart and Showtime Amusements.
Caterwear is an online uniform store specializing in high end catering uniforms that was launched in 2011. Caterwear provides any uniform style from the standard bistro to the tuxedo as well as all of the accoutrements. If there is something that is not listed on the website, they will do their best to locate the product clients are seeking and have it available for them.
Caterwear's owner and President has worked in the hospitality industry for over 20 years, including working for both the Four Seasons and Ritz Carlton Hotels. He knows the importance of quality uniforms and great service. Caterwear is available for both customer's occasional or regular needs. If clients want consistent, quality uniforms for their staff, they can find it at Caterwear. More information can be found online at http://www.partypop.com/v/4381797.
Pink Princess is a nationwide provider of high quality apparel for children. From casual play wear to black tie formal wear, Pink Princess is committed to superior customer service and satisfaction. For over 30 years Pink Princess has grown and established themselves in the casual wear, special occasions, and formal wear markets. The company is now an industry leader in both girl dresses and boy's formal wear, with flower girl and pageant dresses amongst the best sellers.
With the already established company transforming its business model to accommodate the online shopping world, Pink Princess set out to rise above the competition from the beginning. "We did not want to be just another website that sold beautiful little girls' dresses; we wanted to offer not only a fabulous product but also a wonderful shopping experience". Because their buyers negotiate factory direct pricing by volume buying, Pink Princess is able to provide unbelievably low prices, great sales, and a wide variety of children's apparel. More information can be found online at http://www.partypop.com/v/4246725.
Party Favor Mart has been helping people celebrate for over 10 years. Located in Selma Alabama, the company began renting yard signs to help the local community announce new babies, surprise loved ones with special birthday wishes, and provide unique ways for family and friends to celebrate milestones such as retirements and anniversaries. Since then, Party Favor Mart has grown to a nationwide provider of party favors and gifts with something for every special occasion.
Party Favor Mart strives to make the shopping experience stress free and offers full customer service both online and over the phone. Some of the best party favors and gifts for personalized baby showers, elegant bridal showers, silver weddings, crystal christening, or whimsical birthday parties can be found in the online store. Other popular events the company services are anniversaries, theme parties, birthday parties for children, adults and seniors, graduations, religious events, new babies, and all holidays. More information can be found at http://www.partypop.com/v/4116410.
Showtime Amusements is a full service party planning and event company serving Long Island and New York City. The company specializes in providing large, safe inflatable bouncers, water slides, dunk tanks, games and concessions. No matter what an event calls for whether birthday parties, block parties, school carnivals, fundraisers, picnics, corporate events, or religious celebrations, Showtime Amusements will deliver a fun, safe and memorable experience. Showtime Amusements has been providing reliable and professional fun and entertainment for nearly 10 years and can fulfill client's needs for both indoor and outdoor events. Additional information including a photo gallery and contact information can be found at http://www.partypop.com/v/4099646.
About PartyPOP.com: the largest party, wedding and event planning online network:
Before the Internet era, the professionals at PartyPOP.com were successful hands-on party planners and special event producers. For more than a decade PartyPOP has translated 30 years of party planning experience onto the Internet. Millions of vendors are listed on the network consisting of 60+ websites and tens of millions of customers have used the network to plan their parties, weddings and events. PartyPOP.com also provides party and event related tips, themes and ideas, as well as a free full wedding planning software called Seating Arrangement.
About Free Printed Invitations by PartyPOP.com:
PartyPOP provides every bride and groom across the USA, Canada and the U.K. with free beautifully designed wedding invitations, printed on 80lbs card stock paper with matching envelopes and wedding website. Even door to door shipping is included at no cost. There are no hidden fees, no obligations to buy and no strings attached!