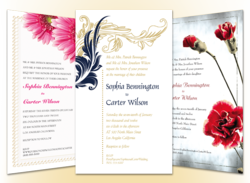 PartyPOP.com features over 2 million highly accomplished and professional companies in the event planning industry.
(PRWEB) May 16, 2012
PartyPOP.com recently announced free wedding invitations and an RSVP website for any engaged couple in the United States, Canada and the United Kingdom. The company has re-purposed their 2012 marketing budget in hopes of building brand awareness and loyalty. According to reports from within the Southern California based company, it's working.
PartyPOP.com features over 2 million highly accomplished and professional companies in the event planning industry. Some of these companies include Ballroom Utah, Sammy Liguori, Mike Christopher Photography, Fun N' Jump and Emil Norsic & Son, Inc.
Ballroom Utah Dance Studio is located in Salt Lake City, Utah. Offering both private and group lessons, Ballroom Utah is one of the most well-known and respected dance studios in the area. With over 25 dances to choose from and multiple styles including disco & club, country western, Latin & rhythm, and [of course] ballroom, dancers of every skill level are sure to find exactly what they are looking for.
Ballroom Utah Dance Studio not only offers private and group lessons; but the company has become popular for parties and special events as well. Open 7 days a week and welcoming both singles and couples alike, the studio is sure to offer the schedule and style customers are looking for. Ballroom Utah Dance Studio has been featured in magazine articles and won multiple awards for their excellence. More details can be found at http://www.partypop.com/v/4342657.
Sammy Liguori has been portraying Robert De Niro for almost 25 years. As a professional impressionist and comedian, Sammy has performed at numerous clubs and events including "Jazz and Jokes" at the Debbie Reynolds Hotel. Sammy has been a stage performer and played secondary roles in films for both comedy and drama roles. Legendary actors, famous producers, and authors such as Debbie Reynolds, and Nicholas Pileggi have all commented on Sammy's resemblance to Robert De Niro while seeing him perform. Sammy was also a finalist on Live with Regis & Kelly as a celebrity lookalike where he beat 10,000 entries. More details, pictures, and booking information can be found online at http://www.partypop.com/v/3003179.
Mike Christopher Photography offers a wide range of services to the Tucson, Arizona area. Whether looking to capture an engagement, wedding, senior portrait, newborn baby, family or corporate event, Mike Christopher Photography operates with the belief the customer comes first. With state-of-the-art equipment, Mike Christopher specializes in portraits & pictures that meet customer needs and exceed expectations. Every Mike Christopher Photography customer works directly with a professional to ensure quality throughout the process. More information can be located at http://www.partypop.com/v/4390433.
Fun N' Jump serves Phoenix, Arizona with Bounce houses, Games and Waterslides for any special event. As one of the most professional and accomplished companies in the party and event industry, Fun N' Jump has a massive selection of inflatables and party packages for events of all sizes. Whether team building or corporate events, neighborhood parties, or personalized children's birthdays, the company delivers exactly what it takes to enhance the party in a safe and memorable way.
Fun N' Jump makes sure every inflatable, water slide, and any rental is clean and safe prior to use and offers delivery and set up at no additional price within the 20 miles of the 85086 zip code. Other services include rock walls, obstacle courses, carnival games, dunk tanks, concession machines, party furniture, mechanical bull, trackless train, and more. The company also created full party combos and packages to ensure customers get the most fun with whatever the budget is. More information can be found online at http://www.partypop.com/v/4048574.
Norsic and Sons offers the widest variety of portable rental toilets on Long Island. From the most basic model to the most elegant, with all the amenities of well-appointed indoor accommodations, Emil Norsic & Sons ensures customer satisfaction. Since 1932 the company has been serving both residents and businesses of Long Island, New York.
Norsic also offers a variety of waste removal services including rubbish removal, cesspool services, roll-off dumpsters, small dumpsters, septic systems, recycling, and enzyme treatments. The company can meet all construction site waste removal needs and also serves special events. Some events Norsic is known for serving are sporting events, beach, pool or lawn parties, weddings, horse shows, fairs and carnivals, or benefits and galas. Details and more information can be found online at http://www.partypop.com/v/4239315.
About PartyPOP.com: the largest party, wedding and event planning online network:
Before the Internet era, the professionals at PartyPOP.com were successful hands-on party planners and special event producers. For more than a decade PartyPOP has translated 30 years of party planning experience onto the Internet. Millions of vendors are listed on the network consisting of 60+ websites and tens of millions of customers have used the network to plan their parties, weddings and events. PartyPOP.com also provides party and event related tips, themes and ideas, as well as a free full wedding planning software called Seating Arrangement.
About Free Printed Invitations by PartyPOP.com:
PartyPOP provides every bride and groom across the USA, Canada and the U.K. with free beautifully designed wedding invitations, printed on 80lbs card stock paper with matching envelopes and wedding website. Even door to door shipping is included at no cost. There are no hidden fees, no obligations to buy and no strings attached!