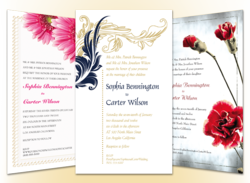 PartyPOP.com features over 2 million highly accomplished and professional companies in the event planning industry.
(PRWEB) May 17, 2012
PartyPOP.com recently announced free wedding invitations and an RSVP website for any engaged couple in the United States, Canada and the United Kingdom. The company has re-purposed their 2012 marketing budget in hopes of building brand awareness and loyalty. According to reports from within the Southern California based company, it's working.
PartyPOP.com features over 2 million highly accomplished and professional companies in the event planning industry. Some of these companies include Always and Forever Florida Weddings, Jim Skinner Photographer, Fairytale Party Rental, La Sirena Mexican Folk Art, Embellish Beauty Concepts,LLC. and Weddings Your Way.
Always and Forever Florida Weddings primarily serves the Orlando, Florida area. Established as an interfaith and non-denominational minister, Reverend Arlene Ponack officiates both traditional and non-traditional wedding ceremonies. As an award winning public speaker Arlene can be counted on to come up with just the right words to express feelings of love and joy. Always and Forever Florida Weddings specializes in small intimate weddings, beach and backyard weddings, home and clubhouse weddings, civil ceremonies, contemporary, religious, or destination weddings as well as hospital bedside ceremonies.
Arlene works closely with every couple to meet their needs. She is familiar with multiple interfaith traditions and offers many popular ceremony activities including: breaking of the glass, kiss of peace, unity candle and unity stand, jump the broom, rose ceremony, coin ceremony, and hand fasting. Ceremonies can be customized to reflect the couple's unique path, style, values, and personalities for interfaith weddings, vow renewals, second marriages, commitment, and religious ceremonies. More information can be found online at http://www.partypop.com/v/4367527.
Jim Skinner is a professional Photographer in the Greenville, South Carolina area. With years of experience Jim is able to capture stunning images no matter what the occasion. Although Jim is an excellent wedding photographer, he also shoots engagements and parties as well as making sure every moment is captured, giving customers a broad selection to choose from.
As a professional photographer, Jim also has a longstanding history in commercial and architectural shoots. He has shot several offices, products, and promotional pictures displayed on his website. Perfect for someone wanting to stand out in the real estate market by having fantastic home photography, Jim also has extensive experience in home and architectural photography. Clients own all edited images taken and multiple photographers are available upon request. More information can be found online at http://www.partypop.com/v/4322933.
Fairytale Party Rental services is based in the Miami Dade County in Florida. The family owned business specializes in kid's parties, baby showers, and any special event for children. Guaranteeing the best service in the area, Fairytale Party Rental offers bouncers, decorations, ponies, petting zoos, tables, chairs, tents and concession machines to name a few. As a one stop party rental company, there is no need to hire multiple different companies or individuals to get everything needed for a great party. More information can be found online at http://www.partypop.com/v/4393328.
"LaSirena" means "The Mermaid." La Sirena is a Mexican Folk Art store in New York City reflecting the beauty and richness of both the country of Mexico and the people who live there. The store is filled with arts and crafts from all over Mexico. LaSirena has everything from museum quality pieces to traditional marketplace merchandise and in all price ranges. Much of the work is crafted through family traditions that have been passed from generation to generation. Pieces are bought to LaSirena directly from the artists whenever possible to ensure artists are fully paid and both profits and the traditions live on. More information can be found online at http://www.partypop.com/v/4290848.
Embellish Beauty Concepts; LLC is located in Philadelphia, Pennsylvania. The company provides mineral makeup, lash extensions, make-up artistry and hair care. Marcia V. Williams, founder and CEO is a licensed hair stylist, make-up artist, and lash stylist. She received her cosmetology license in 1995 after graduating from Gordon Philips Beauty School. With certifications as a Wella™ Color Specialist, Airbush Makeup Artist, Shavasana™ Lash Stylist, Marcia is well educated and trained in creating the embellished look for her clients.
Marcia launched Embellish cosmetics, a mineral cosmetics line which she personally formulated and manufactured. Embellish is rich and diverse in color, free from paraben, preservatives, dyes, bismuth oxychloride, and 95% vegan free. The product is specifically designed to fit the needs of all complexions, ages, and lifestyles. More information can be found online at http://www.partypop.com/v/4381479.
Located in Ontario Canada, Weddings Your Way performs both traditional and non-traditional wedding services. The vision and goal of Weddings Your Way is to offer a graceful, relaxing approach to the most important day of a couple's life. Weddings Your Way provides wedding photography, vow writing, non-religious, and spiritual ceremonies. Couples can choose a male or female officiant with over 25 years experience. Details can be found online at http://www.partypop.com/v/4104123.
About PartyPOP.com: the largest party, wedding and event planning online network:
Before the Internet era, the professionals at PartyPOP.com were successful hands-on party planners and special event producers. For more than a decade PartyPOP has translated 30 years of party planning experience onto the Internet. Millions of vendors are listed on the network consisting of 60+ websites and tens of millions of customers have used the network to plan their parties, weddings and events. PartyPOP.com also provides party and event related tips, themes and ideas, as well as a free full wedding planning software called Seating Arrangement.
About Free Printed Invitations by PartyPOP.com:
PartyPOP provides every bride and groom across the USA, Canada and the U.K. with free beautifully designed wedding invitations, printed on 80lbs card stock paper with matching envelopes and wedding website. Even door to door shipping is included at no cost. There are no hidden fees, no obligations to buy and no strings attached!