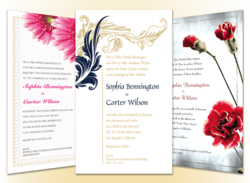 PartyPOP.com features over 2 million highly accomplished and professional companies in the event planning industry.
(PRWEB) May 18, 2012
PartyPOP.com recently announced free wedding invitations and an RSVP website for any engaged couple in the United States, Canada and the United Kingdom. The company has re-purposed their 2012 marketing budget in hopes of building brand awareness and loyalty. According to reports from within the Southern California based company, it's working.
PartyPOP.com features over 2 million highly accomplished and professional companies in the event planning industry. Some of these companies include Bruce Garnitz Music & Entertainment, Total Entertainment, Ever After Entertainment, Instant Magnetic Photos, SicLights and All Star Jump.
Based in Los Angeles, California, the Bruce Garnitz Music & Entertainment Company custom designs entertainment to any event or every theme. The company provides completely personalized services, bringing the finest musicians and entertainers for a single evening or an entire convention. Providing services internationally, the company is owned and operated by Bruce and Ginger Garnitz.
Originally from Chicago, Illinois, Bruce honed his talents in San Francisco and polished his skills teaching in Boston before relocating to Los Angeles. Now Bruce, Ginger, and their associates are experienced professionals bringing creativity and elegance to special events around southern California. Whether they provide a single performer or complete production and coordination, guests are sure to have a marvelous experience and give fabulous reviews to hosts. More information can be found online at http://www.partypop.com/v/3000075.
Total Entertainment is Houston's latest and greatest entertainment provider. From Birthday parties to Church functions, Weddings, Bar Mitzvahs and Corporate events, Total Entertainment will make any social gathering a success. The company provides inflatables and games, concessions and costumed characters. Dunk tanks, water slides and carnival games are a popular choice for church functions, sporting events, and festivals. Fire breathers, jugglers, caricature artists, and face painters are also available to make a lasting impression on guests and hosts alike. More information can be found online at http://www.partypop.com/v/4249795.
Ever After Entertainment is the number 1 source for children's entertainment in Long Island, New York. The mobile entertainment company caters to all special events, moments, and memories. Dedicated to providing top quality service at an unbeatable rate, Ever After Entertainment offers everything from dancing and games with costumed characters to chocolate facials and pampering at the spa.
The highly trained Ever After staff of professional performers ensures customer's events are strategic and spectacular to maximize fun for kids and parents alike. Theme parties, princess parties, glitzy glam spa parties, and diva parties are among the most popular, while package deals and add-ons like concession machines and body art are also available. More information can be located at http://www.partypop.com/v/4390839.
Based in Los Angeles, California, Instant Magnetic Photos are taken by a professional crew and printed on magnets with customized borders and dedications at special events. The whole process is done during the event and guests take home their own photo magnets. Each photo magnet is done by a professional crewmember and a disc of all pictures is readily available to the host after the event. Green screens provided upon request and packages are suggested for weddings, parties, birthdays, bat/bar mitzvahs, corporate events, and holiday parties. More information can be found online at http://www.partypop.com/v/4381499.
SicLights is a professional lighting design company located in New York City, New York. From parties to clubs, photo shoots to concerts, SicLights blends the perfect balance of people, media, and performance. "The interaction of the senses with all that surrounds a unique circumstance defines our frame of mind and what we take away [from the experience] when it's over" said Mark Maxwell of SicLights. The company's mission is to create the perfect one-of-a-kind solution for audio/visual lighting and entertainment for its clients. With experience with music video shoots and TV, SicLights is sure to deliver the perfect mood to any event. More information can be found online at http://www.partypop.com/v/4381149.
Located in Spokane, Washington, All Star Jump is a family-oriented, dependable, and locally owned company. For over 15 years All Star Jump has helped create a fun and memorable environment at parties and special events. The company now has 50 inflatables, concessions and carnival games to choose from. As a fully insured company, All Star Jump is perfect for birthday parties, school carnivals, family fun nights and graduation parties, or any special event. Commitment to excellent customer service and satisfaction along with safety is always top priority. Other available rentals include the Trampoline Thing, water slides, interactive games, tents, tables, and chairs to make sure nothing is overlooked in planning a party of any size. Details on All Star Jump can be found online at http://www.partypop.com/v/4128700.
About PartyPOP.com: the largest party, wedding and event planning online network:
Before the Internet era, the professionals at PartyPOP.com were successful hands-on party planners and special event producers. For more than a decade PartyPOP has translated 30 years of party planning experience onto the Internet. Millions of vendors are listed on the network consisting of 60+ websites and tens of millions of customers have used the network to plan their parties, weddings and events. PartyPOP.com also provides party and event related tips, themes and ideas, as well as a free full wedding planning software called Seating Arrangement.
About Free Printed Invitations by PartyPOP.com:
PartyPOP provides every bride and groom across the USA, Canada and the U.K. with free beautifully designed wedding invitations, printed on 80lbs card stock paper with matching envelopes and wedding website. Even door to door shipping is included at no cost. There are no hidden fees, no obligations to buy and no strings attached!