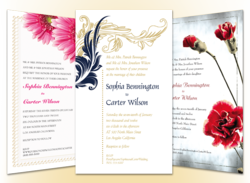 PartyPOP.com features over 2 million highly accomplished and professional companies in the event planning industry.
(PRWEB) May 19, 2012
PartyPOP.com recently announced free wedding invitations and an RSVP website for any engaged couple in the United States, Canada and the United Kingdom. The company has re-purposed their 2012 marketing budget in hopes of building brand awareness and loyalty. According to reports from within the Southern California based company, it's working.
PartyPOP.com features over 2 million highly accomplished and professional companies in the event planning industry. Some of these companies include Omni Productions, Inc., Lil Divas, Engle Consulting Inc., A Star Performance and G-Mara Song Productions.
Omni Productions, Inc. is a special event production company serving Atlanta, Georgia with the experience of providing products and services for events. With exceptional attention to detail and creativity in all aspects, the company presents a complete team of professionals-event planners, catering staff, special talent, entertainers, and more-who have the experience and talent to create the perfect party. Whether it's designing an atmosphere that is elegant or a festivity that is fun and imaginative, Omni Productions, Inc. is the source for a fresh style to events.
Omni Productions, Inc. offers a complete, a` la carte menu of services with expert consultation. Whether presenting the entertainment or attending to each discriminating detail, Omni Productions' team lets clients shine-not stress-from start to finish. Services include Amusement Rental, Carnival Games, Balloons, Professional Decorating, Bartenders/Bar Set-ups, Culinary - Cakes, Confections and Catering as well as Consultation-Budget, Theme, Scope and Decorations to name a few. The company also specializes in the theme of a party. With experience, and creativity, Omni Productions, Inc. will help clients choose the theme that will engage their guests and add that all-important element of pizzazz. Some of the company's past performances include; Autumn Fun, Beach Theme, Carnival, 1950s Diner and more. More information can be found online at http://www.partypop.com/v/3662641.
Lil Divas Parties serves Atlanta, Georgia. The company does theme parties and helps customers plan their event ranging from small birthday parties and small intimate dinners to big sweet 16 parties. The company believes that customers' needs are of the utmost importance and can help with everything from party themes, invitations, favors, activities, cakes, catering and dessert bars. Lil Divas can do partial to full party planning. Lil Divas offers a variety of themed parties for all occasions including glamour spa parties, pampered princess parties, baby shower spas, bachelorette spa parties, pirates parties, racing parties, family reunions, sweet 13-16, small intimate dinners, birthday parties, boys parties and more. The company will help clients throw a memorable party that guests will love and never forget. More information can be found online at http://www.partypop.com/v/4392570.
Engle Consulting Inc. was started by Brett Engle. He facilitates staff retreats and team building that bring coworkers together. He is a standup comic and therapist. Drawing upon his childhood, life as a husband and father, and over 15 years of work in the mental health field, Brett uses his clinical skills to analyze and illustrate universal themes of love-hate relationships and the joys and pains of parenting. Brett's experiences with diversity and difference add to his repertoire of funny anecdotes and to the universality of his appeal. He often performs in the south Florida comedy scene, performing at The Improv and the Fort Lauderdale Comedy Club. More information can be found at http://www.partypop.com/v/4381191.
A Star Performance serves Tennessee, Kentucky and Georgia. The company provides everything necessary for client's dinner party or event. A Star Performance set up full catering, staffing, and entertainment. Customers need to look no further than A Star to get bartenders, servers, prep cooks, sues chefs, disc jockeys, security guards, valet parking and entertainment solo artists. More information can be found online at http://www.partypop.com/v/4117721.
G-Mara Song Productions serves Orlando, Florida and was founded by G-Mara after she wrote a song for her daughter's Quinceañera. For over 15 years G-Mara has continually developed her song writing ability through poetry and piano. She knows the importance of having the right song for the right occasion and has written songs for many girls' Sweet 15 and Sweet 16 events.
G-Mara was born and raised in the heart of NYC. Her early poetry writing as a child later helped her develop the musical ability to create melodies to accompany lyrics. She began piano lessons in 1997, which later helped her become more fluent with her songwriting. She can write different styles such as Ballads, Pop and Christian Contemporary music yet, she continues to expand her repertoire of music. Being a romantic at heart, she enjoys writing songs that not only tell a story, but touch the deepest part of a person's soul. More information can be found online at http://www.partypop.com/v/4355202.
About PartyPOP.com: the largest party, wedding and event planning online network:
Before the Internet era, the professionals at PartyPOP.com were successful hands-on party planners and special event producers. For more than a decade PartyPOP has translated 30 years of party planning experience onto the Internet. Millions of vendors are listed on the network consisting of 60+ websites and tens of millions of customers have used the network to plan their parties, weddings and events. PartyPOP.com also provides party and event related tips, themes and ideas, as well as a free full wedding planning software called Seating Arrangement.
About Free Printed Invitations by PartyPOP.com:
PartyPOP provides every bride and groom across the USA, Canada and the U.K. with free beautifully designed wedding invitations, printed on 80lbs card stock paper with matching envelopes and wedding website. Even door to door shipping is included at no cost. There are no hidden fees, no obligations to buy and no strings attached!