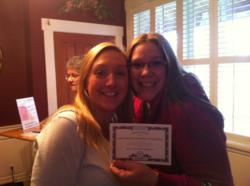 More professionals in the party, wedding and event industry are joining PartyPOP.com
(PRWEB) April 04, 2012
PartyPOP.com recently announced free wedding invitations and an RSVP website for any engaged couple in the United States, Canada and the United Kingdom. The company has re-purposed their 2012 marketing budget in hopes of building brand awareness and loyalty. According to reports from within the Southern California based company, it's working.
PartyPOP.com features over 2 million highly accomplished and professional companies in the event planning industry. Some of these companies include Five Star Staffing, IL Wedding Officiant, Houston Characters and Bounce Wow New York.
Five Star Staffing provides professional staffing solutions for events of any size around the Philadelphia tri-state area. From intimate parties to large banquets, weddings, and b'nai mitzvoth, Five Star Staffing provides assistance with any event. The company administers event supervisors, captains, servers and lead servers, bartenders and kitchen assistants as well as greeters, coat check attendants, and bathroom attendants.
David DePhillips, President and Owner of Five Star Staffing, has been working in the hospitality and food service industry for more than fourteen years. He previously worked in the Banquet, Food and Beverage Departments of some of the most prestigious hotels in Philadelphia including: the Ritz Carlton and the Four Seasons hotels. He also managed events for a Philadelphia based catering company with exclusive rights to the University of Pennsylvania Museum and the Pennsylvania Academy of Fine Arts.
Based on David's extensive experience, he began Five Star Staffing. His goal was to provide personal, consistent, quality service to his customers that far exceeded the industry standard. He hires and screens all employees ensuring that they meet the level of service to which he is accustomed. The company is bonded and provides workers' compensation along with general liability insurance. For more information and to submit your event go to http://www.partypop.com/v/4081076.
Founded by Rev. Pamela, IL Wedding Officiant offers traditional and non-traditional wedding ceremonies. For couples interested in an inexpensive alternative to flashy weddings, but wanting more than the drab courthouse experience; IL Wedding Officiant is the balance couples are seeking. Rev. Pamela conducts services according to unique personalities, beliefs, and desires. She is a gay friendly licensed officiate and an Interfaith Minister. Available services include bed and breakfast, weddings and civil unions, elopement and vow renewals as well as full wedding planning and budget wedding packages to fit customer needs. Couples may also choose to have their service in front of a fireplace or in the backyard garden of historic Pine Manor located in the beautiful Northwest Suburbs of Chicago.
The wedding venue offers an intimate home perfectly suitable for a small guest list up to 30 people or a private elopement to Chicago-land's northwest suburbs. Couples can choose this location as a county courthouse wedding alternative for quick ceremonies and a small event venue. The home also features a 1920's touch with honeymoon suite, home cooked catering and wedding packages for every budget. Among other things, Rev. Pamela also offers the handfasting rite. Handfasting originated with the ancient Celtic culture and is where the term "tie the knot" originated. The tradition symbolizes the couple's commitment to one another and their desire to be united. For more information click http://www.partypop.com/v/4380477.
Houston Characters is a 24 hour high quality costume rental company serving the Greater Houston area. Experienced professionals assist customers in creating memorable events for children. During a child's birthday party, for instance, a TV friend can add extra excitement to the whole occasion. The character will come to the customer's location, do a dance routine, pose for photos with the kids as well as help sing happy birthday, cut the cake and participate in several age appropriate games. With Houston Characters, customers can choose from a variety of well known characters to brighten any party or event. The company also offers "Build Your Own Teddy Bear", face painting and photography. More information can be found online at http://www.partypop.com/v/4377185.
Bounce Wow New York is located in Long Island, New York. The company provides bounce houses, inflatables, balloon delivery, decorations and professional party talent for a variety of occasions. Bounce Wow New York rents out unique inflatables and only invests in modern, up to date bounce houses that will entertain guests and have children jumping for joy. Moonwalks, moon bounce, jumpers as well as bounce houses, bouncy castles, party rentals and moon jumpers are popular rentals for kids.
Parents and event planners can also decide to add professional performers and entertainers. Among them are face painters, balloon twisters, airbrush tattoo artists, and fire eaters. Bounce Wow New York caters events of every size from children's parties to corporate events. Block parties, communions, bar mitzvahs, school functions, carnivals, bazaars, and church events are guaranteed to be brought to life with Bounce Wow New York . More information can be found online at http://www.partypop.com/v/4380968.
About PartyPOP.com: the largest party, wedding and event planning online network:
Before the Internet era, the professionals at PartyPOP.com were successful hands-on party planners and special event producers. For more than a decade PartyPOP has translated 30 years of party planning experience onto the Internet. Millions of vendors are listed on the network consisting of 60+ websites and tens of millions of customers have used the network to plan their parties, weddings and events. PartyPOP.com also provides party and event related tips, themes and ideas, as well as a free full wedding planning software called Seating Arrangement.
About Free Printed Invitations by PartyPOP.com:
PartyPOP provides every bride and groom across the USA, Canada and the U.K. with free beautifully designed wedding invitations, printed on 80lbs card stock paper with matching envelopes and wedding website. Even door to door shipping is included at no cost. There are no hidden fees, no obligations to buy and no strings attached!