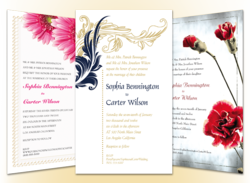 PartyPOP.com features professional and dedicated vendors in the party, wedding and event industry.
(PRWEB) April 15, 2012
PartyPOP.com recently announced free wedding invitations and an RSVP website for any engaged couple in the United States, Canada and the United Kingdom. The company has re-purposed their 2012 marketing budget in hopes of building brand awareness and loyalty. According to reports from within the Southern California based company, it's working.
PartyPOP.com features over 2 million highly accomplished and professional companies in the event planning industry. Some of these companies include ABC Worldwide Chauffeured Transportation and The Theme Factory of Philadelphia.
ABC Worldwide Chauffeured Transportation, is based in Raleigh, North Carolina. The principals of the company have over thirty years experience in the professional ground transportation and corporate travel industry and posses the experience, knowledge and skills to meet the ever changing demands of their clients. The company's professional chauffeurs are available to meet all ground travel needs for any size party. Drivers will arrive in the latest model L-Series Lincoln Town Cars, Exotic Limousines, SUV's, Passenger Vans, Mini-Buses, Entertainment Day Coaches, or 56-passenger European Motor Coaches.
Whether it's a simple airport trip or a multi-hour, multi day, multi vehicle charter, ABC Worldwide Chauffeured Transportation will arrange everything for a seamless customer experience. ABC Worldwide is able to assist individual travelers, or up to a 1000 person orchestrated group. The company's mission is to provide unparalleled professionalism to every individual served. With nearly thirty five years experience in the chauffeured transportation and upper echelon corporate travel industry, the partners always strive to exceed expectations. More information can be found online at http://www.partypop.com/v/4324270.
The Theme Factory of Philadelphia is a multi-service company serving New York City, Harrisburg and Philadelphia event planners. The company's mission is to be the best special events solution provider for planners and project managers. The Theme Factory of Philadelphia provides quality graphic elements for use in Private and Corporate Special Events, Museum exhibitions, Theatre, Television, Photography, Film, Trade Show displays or any venue requiring creative designing and fabrication. Whether renting or purchasing, the company can meet any of the aforementioned needs with exceedingly high quality and service.
The Theme Factory of Philadelphia is divided primarily into three separate entities: prop rental, custom manufacturing, and a sign shop. Because the company occupies an area in excess of 60,000 square feet, the manufacturing department is able to take an arts and crafts approach rather than mass production for building scenic elements. The rental division is able to properly store and maintains props and backdrops, while PHILLYPROPS.com (a division of The Theme Factory of Philadelphia) has been created to service the specific needs of the Film, Television and Theatre industries. The SignShop at The Theme Factory is a new division specializing in wide format print solutions. This division can produce banners, retractable banners, signboards and permanent graphics.
Over 95 percent of the theme props in warehouse are designed and built by The Theme Factory for quick and easy setup and breakdown; therefore, decorators can decide to install the props themselves, or have The Theme Factory staff complete the installations. More information can be found online at http://www.partypop.com/v/3136017.
About PartyPOP.com: the largest party, wedding and event planning online network:
Before the Internet era, the professionals at PartyPOP.com were successful hands-on party planners and special event producers. For more than a decade PartyPOP has translated 30 years of party planning experience onto the Internet. Millions of vendors are listed on the network consisting of 60+ websites and tens of millions of customers have used the network to plan their parties, weddings and events. PartyPOP.com also provides party and event related tips, themes and ideas, as well as a free full wedding planning software called Seating Arrangement.
About Free Printed Invitations by PartyPOP.com:
PartyPOP provides every bride and groom across the USA, Canada and the U.K. with free beautifully designed wedding invitations, printed on 80lbs card stock paper with matching envelopes and wedding website. Even door to door shipping is included at no cost. There are no hidden fees, no obligations to buy and no strings attached!