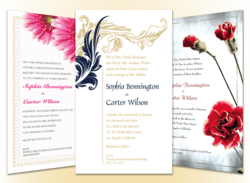 PartyPOP features over 2 million highly accomplished and professional companies in the event planning industry.
(PRWEB) April 30, 2012
PartyPOP.com recently announced free wedding invitations and an RSVP website for any engaged couple in the United States, Canada and the United Kingdom. The company has re-purposed their 2012 marketing budget in hopes of building brand awareness and loyalty. According to reports from within the Southern California based company, it's working.
PartyPOP.com features over 2 million highly accomplished and professional companies in the event planning industry. Some of these companies include Furla Photography & Video, Bulldog Cab Co. and Filmdog Media.
Furla Photography & Video offers some of the best wedding photography and videography in Chicago. The company has a full-time staff of award winning wedding photographers and videographers. Peter Furla holds the distinction of being the first three time recipient of the "Best Print of the Year" award from CPPA. Peter was inducted into the prestigious Presidential Circle, holds two fellowship degrees and is a PPA certified professional photographer.
Furla Photography provides family, children, baby and pet portraits, executive portraits and more. The company also shoots weddings, engagements, baptisms, mitzvahs and corporate events to name a few. The creative team knows how to blend photojournalism and fashion with some traditional poses creating natural, intimate, edgy and fun images. Not only has the company's work been published and featured in several national and local magazines such as Modern Bride, The Knot and Elegant Bride, the team has also won more awards at the WEVA & PPA International conventions than any other studio in the Midwest.
Customers can also request the Furla Photo booth to increase the "Fun Factor" at client's event. From Birthdays to Anniversaries, guests will enjoy the magic created by the Photobooth, especially since the booth accommodates up to six people for extra fun. Furla Photography also conducts seminars on a regional, national and international level and was recently named one of the 25 most influential studios in the industry by EventDV magazine. More information can be found online at http://www.partypop.com/v/3131949.
Located in Starkville, Mississippi, Bulldog Cab Co. provides reliable and courteous transportation services to the city of Starkville, the Mississippi State University community and will serve the Golden Triangle area. Bulldog Cab Co. strives to provide the area with a safe and affordable mode of transportation. The company provides day and night taxi services in the local Starkville area, MSU Campus, Columbus and West Point to name a few. Additionally, customers can request charter and limo services. Clients enjoy charter services to celebrate bachelor/bachelorette parties, weddings, casino trips, fraternity and sorority events and corporate business events. Bulldog Cab Co. can be contacted online at http://www.partypop.com/v/4354445.
Located in Trussville, Alabama, Filmdog Media has been specializing in professional film, media creation, broadcasting and corporate video for over ten years. The company has worked in high pressure shoots with Access Hollywood, Extra, Hard Copy as well as the MTV, and ESPN networks.
The Filmdog Media team is derived of some of the best creative freelancers that can be found. The team has won numerous Emmys, Telly, and Addy awards. Services include corporate video, TV spots, web based video, DVD authoring, pre-production as well as production, audio production, post production and animation. Filmdog is proud to offer their services to their clients, and can offer its expertise ranging from small businesses to large corporations. More information can be found online at http://www.partypop.com/v/4342846.
About PartyPOP.com: the largest party, wedding and event planning online network:
Before the Internet era, the professionals at PartyPOP.com were successful hands-on party planners and special event producers. For more than a decade PartyPOP has translated 30 years of party planning experience onto the Internet. Millions of vendors are listed on the network consisting of 60+ websites and tens of millions of customers have used the network to plan their parties, weddings and events. PartyPOP.com also provides party and event related tips, themes and ideas, as well as a free full wedding planning software called Seating Arrangement.
About Free Printed Invitations by PartyPOP.com:
PartyPOP provides every bride and groom across the USA, Canada and the U.K. with free beautifully designed wedding invitations, printed on 80lbs card stock paper with matching envelopes and wedding website. Even door to door shipping is included at no cost. There are no hidden fees, no obligations to buy and no strings attached!