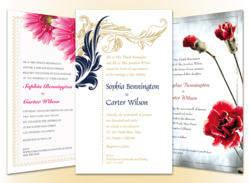 PartyPOP.com features ambitious party, wedding and event professionals.
(PRWEB) April 11, 2012
PartyPOP.com recently announced free wedding invitations and an RSVP website for any engaged couple in the United States, Canada and the United Kingdom. The company has re-purposed their 2012 marketing budget in hopes of building brand awareness and loyalty. According to reports from within the Southern California based company, it's working.
PartyPOP.com features over 2 million highly accomplished and professional companies in the event planning industry. Some of these companies include Invitation in a Bottle, Photo Booth Stars ~ Green Screen Photo Booth, La Petite Party and Party Playgrounds.
Located in Seattle, Washington, Invitation in a Bottle was founded in 2004 under the name Marketing in the Bottle. The company's original mission was to serve corporate clients with marketing efforts using their unique Message in a Bottle products. Mailed directly to customers, the products were a huge success. By 2006, so many people had began asking Marketing in a Bottle to do their wedding and party invitations that the company changed their name to Invitation in a Bottle.
Today, Invitation in a Bottle has shipped over 1.5 million bottles to date and has developed multiple product lines, a line including 20 different themes, do-it-yourself kits and elegant message in a bottle gifts. The company's bottles have been used for events big and small as a unique idea for various occasions. Customers can choose invitations in a bottle for weddings, parties, relationships, baby announcements, holiday parties and gifts, and corporate occurrences.
The company's message gallery includes hundreds of designs and wording to fit every occasion. Everything is customizable and clients can choose the message/invitation wording, design and font contents of the box. Also, the plastic bottle invitations go directly through the mail without an envelope or box. Online, customers can shop by occasion, product, or by theme. More information can be found online at http://www.partypop.com/v/4053005.
Photo Booth Stars ~ Green Screen Photo Booth is based in Los Angeles, California. The company serves a variety of events including weddings, sweet 16s, graduation parties, school dances, reunions, corporate events, retirements and more. Photo Booth Stars ~ Green Screen Photo Booth is the first to introduce the Green Screen Photo Booth in Southern California with more technology and more colors.
The company has hundreds of backgrounds to choose from, ranging from Retro and Scenic backgrounds to Magazine covers and Sport Cards. During Photo Shoots the company's onsite photographer takes photos of guests with a full studio set up. All photos are retouched, processed and printed on the spot by a professional assistant. With state of the art equipment, various photography styles are offered to entertain guests. Photo Booth Stars ~ Green Screen Photo Booth services and packages are a perfect fit for any event. From small parties to crowded conventions, the company's onsite photographers give personal attention to every guest. More information can be found online at http://www.partypop.com/v/4381655.
La Petite Party is located in Los Angeles, California. The company specializes in all kinds of children's celebrations and takes care of everything from setting up, decorations, costumes and accessories, balloons, food, cupcakes, party favors, crafts and games, all the way through tear down and cleanup. La Petite Party also offers a variety of menu options for parents to enjoy during the party. Customers can choose to celebrate in any chosen location or at the party facility of La Petite Party.
The company provides all inclusive theme parties for both boys and girls, and clients can select from pre-designed theme party packages, or mix and match themes. La Petite Party will even create a specific custom theme party to cater to children's individual interest. La Petite Party also offers an array of options for Girl Scout Troop parties and luxurious Spa Parties. Customers can also choose from an invitation selection, add upgraded favor bags and gifts, or party specials. More information can be found online at http://www.partypop.com/v/4125726
Party Playgrounds provides a wide range of kids' party and other event services. The company is based in Long Island, New York and offers party bounce houses, inflatables, tents, tables and chairs for a variety of events. Party Playgrounds offers equipment for birthday parties, family gatherings, communion, confirmation, barbeque, bar mitzvah, or any celebration. For more information go to http://www.partypop.com/v/4324533.
About PartyPOP.com: the largest party, wedding and event planning online network:
Before the Internet era, the professionals at PartyPOP.com were successful hands-on party planners and special event producers. For more than a decade PartyPOP has translated 30 years of party planning experience onto the Internet. Millions of vendors are listed on the network consisting of 60+ websites and tens of millions of customers have used the network to plan their parties, weddings and events. PartyPOP.com also provides party and event related tips, themes and ideas, as well as a free full wedding planning software called Seating Arrangement.
About Free Printed Invitations by PartyPOP.com:
PartyPOP provides every bride and groom across the USA, Canada and the U.K. with free beautifully designed wedding invitations, printed on 80lbs card stock paper with matching envelopes and wedding website. Even door to door shipping is included at no cost. There are no hidden fees, no obligations to buy and no strings attached!