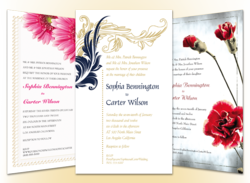 PartyPOP.com features experienced professionals in the party, wedding and event planning industry.
(PRWEB) April 12, 2012
PartyPOP.com recently announced free wedding invitations and an RSVP website for any engaged couple in the United States, Canada and the United Kingdom. The company has re-purposed their 2012 marketing budget in hopes of building brand awareness and loyalty. According to reports from within the Southern California based company, it's working.
PartyPOP.com features over 2 million highly accomplished and professional companies in the event planning industry. Some of these companies include Mercury Sound & Lighting, A Beautiful Bride, International Escape Artist & Entertainer Curtis Lovell and Zeo Brothers Rental/Retail.
Mercury Sound and Lighting serves Detroit, Michigan. The vision of a Sound and Lighting Company was initiated in 1998 when the founder saw a unique parallel between sound, lighting and imagination. In 2001, MSL began servicing a very large church base with audio sales and rentals in the metro Detroit area. After a few short years, MSL became a full production company and industry leader equipping major concerts, festivals, churches and corporate clients with the equipment necessary to combine sound, lighting, video, staging, drape and creativity. After ten years in business, MSL now services the entire country and parts of Canada.
The company's extensive resume includes installations, production management and rentals for all types of clients and venues. Mercury Sound and Lighting has segmented their company into three different client bases: Mercury Sound and Lighting, Mercury Weddings, and Mercury Corporate A/V. While each of their brands are very similar in the work they do, they are each individually unique to their respective clients. Mercury Sound and Lighting offers audio, staging, lighting, video and drape, Mercury Weddings supplies event lighting and sound, and Mercury Corporate A/V provides professional audio visual to the corporate world. For one or more of the company's divisions, check them out online at http://www.partypop.com/v/4242637.
A Beautiful Bride is a company in Tampa, Florida dedicated to assisting brides in creating exactly what they envision for their special day. From classic to modern, trendy to vintage, A Beautiful Bride takes care to listen to bride's visions, creating a look where the bride feels radiant both in person and in pictures. Because A Beautiful Bride is dedicated to enhancing customers' natural beauty, the company's on-location hair and makeup group brings the salon directly to clients.
A Beautiful Bride has put together a team of experienced professionals that can accommodate all of the bride's beauty needs using the latest and most innovative beauty techniques. The company provides a wide range of services from lavish up dos, to flowing natural styles, hair extensions, airbrush makeup, eyelashes additions, spa services and more. All make up services include strategic facial contouring, silicone blended airbrush makeup, artfully selected palette of feature enhancing colors, customized false eyelashes and eyebrow shading. More information can be found online at http://www.partypop.com/v/4321520.
International Escape Artist and Entertainer Curtis Lovell serves Las Vegas, Nevada and California. Curtis is an internationally televised performer who specializes in corporate and social magical entertainment for special events. As a full-time professional entertainer, Curtis Lovell has performed for hundreds of thousands of people around the world.
Curtis Lovell has a variety of websites that are tailored to customers' special event and party needs. He offers an interactive comical magic show in a variety of styles for events in all Southern California counties. Curtis Lovell provides magical entertainment for corporate events, adult parties, college/universities, product launches, television shows, trade shows, wedding receptions, premier parties or any event. Curtis Lovell also offers magic shows for children's birthday parties, Boy Scout functions, school events, or family style comedy magic shows. The shows are interactive and comical and always entertaining. More information can be found online at http://www.partypop.com/v/4064147.
Zeo Brothers Rental/Retail is located in Hatboro, Pennsylvania and has been serving the Northeastern United States since1976. The company is a division of The Zeo Group which provides over the counter equipment rentals as well as new and used equipment sales. The Rental/Retail division serves the gamut of production needs providing equipment in audio, lighting, video, staging, backline, pipe and drape, or almost anything else event related.
For over 30 years, The Zeo Group has been providing sound, lighting, staging, and more for a multitude of concerts, shows, theatrical productions and events of all kinds. With expertise in corporate and convention productions as well as national tours featuring Grammy award-winning artists, the company is committed to customer satisfaction and always strives to exceed expectations. More information can be found online at http://www.partypop.com/v/4049743.
About PartyPOP.com: the largest party, wedding and event planning online network:
Before the Internet era, the professionals at PartyPOP.com were successful hands-on party planners and special event producers. For more than a decade PartyPOP has translated 30 years of party planning experience onto the Internet. Millions of vendors are listed on the network consisting of 60+ websites and tens of millions of customers have used the network to plan their parties, weddings and events. PartyPOP.com also provides party and event related tips, themes and ideas, as well as a free full wedding planning software called Seating Arrangement.
About Free Printed Invitations by PartyPOP.com:
PartyPOP provides every bride and groom across the USA, Canada and the U.K. with free beautifully designed wedding invitations, printed on 80lbs card stock paper with matching envelopes and wedding website. Even door to door shipping is included at no cost. There are no hidden fees, no obligations to buy and no strings attached!