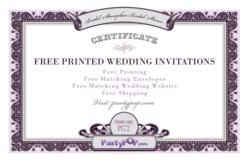 PartyPOP.com features over 2 million highly accomplished and professional companies in the event planning industry.
(PRWEB) April 17, 2012
PartyPOP.com recently announced free wedding invitations and an RSVP website for any engaged couple in the United States, Canada and the United Kingdom. The company has re-purposed their 2012 marketing budget in hopes of building brand awareness and loyalty. According to reports from within the Southern California based company, it's working.
PartyPOP.com features over 2 million highly accomplished and professional companies in the event planning industry. Some of these companies include Shy McGrath Wedding & Portrait Photography, Latin Expression, Ameramark and Scoop-itz.
Shy McGrath Wedding & Portrait Photography serves Las Vegas, Nevada. With years of experience, a passion for fine art and state of the art equipment, every shoot is aimed at creating images that exceed client's expectations. Shy McGrath produces beautiful photojournalistic images with a contemporary edge that makes every photo pop. She shoots weddings, portraits and boudoirs as well as maternity, children, musicians and events. More information can be found online at http://www.partypop.com/v/4339486.
Latin Expression (aka: Expresión Latina) is a 13-piece orchestra located in Florida. The ensemble is comprised of 4 vocalists, 4 horns, and a 5 piece rhythm and percussion section making Latin Expression a powerhouse orchestra of Latin music. The group has performed from Canada to Los Angeles, packing clubs and filling dance floors as well as delighting festival crowds. Their repertoire includes rhythms from around the Caribbean including, salsa, cumbia, Afro-Cuban, and [what they call] "power-salsa".
In 1997 their debut CD titled "Realidad" was released on the Tocolo Música label. The album (which was nominated for a NAMA award) featured eight original compositions including fan favorites Realidad and Alejate. 2005 brought the release of the highly anticipated production entitled "9 Días de Rumba", which was recorded in Medellín, Colombia. 9 Días de Rumba was arranged and directed by Orlando Libreros, produced by Papo Medina, and featuring special guest performances by Diego and Jaimé Galé. This eleven song album was designed for both the dancers and salsa lovers alike. More information can be found online at http://www.partypop.com/v/4287410.
Ameramark is based in Orange County, California. The company is dedicated to implementing cost efficient advertising products and promotional programs for customers. With over 20 years experience in the manufacturing industry, Ameramark is able to work with clients to find the best alternative to their visibility, marketing and promotional needs. The company designs and manufactures promotional products in their facility, giving them the flexibility and efficiency to have a quick response to customer needs.
Ameramark uses dancing inflatables, product replicas, custom cold air inflatables, giant inflatables and digital printed banners and flags to get businesses noticed. Ameramark analyzes client's advertising needs and recommends the best product for customer's advertising campaign. The success of Ameramark is dependent upon the success of their clients; so, customer satisfaction and relationship building is at the center of the company's core values. Ameramark is always developing new products to accomplish promotional and advertising needs through more visibility. Being noticed at a trade show, event, or a grand opening is a big key to success; and, Ameramark makes sure their customers don't miss the opportunity to draw the attention they deserve. More information can be found at http://www.partypop.com/v/4341943.
Scoop-itz is The Creative Creamery on Wheels serving Atlanta, Georgia. A Funky Ice Cream Truck with a Creative and Tasteful Twist, The Creative Creamery on Wheels made its way to North Georgia in the summer of 2007. The family run business provides top quality ice cream for curbside, parties and special events.
The company has many packages ranging from corporate events, socials and fundraisers to creative party packages. Scoop-itz also sells top of the line products by blue bell, good humor, ben and jerry's and more. The Scoop-itz ice cream truck is also stocked with water, drinks and a wide selection of candies. Scoop-itz is for all ages and additionally provides crazy hair, canvas art and crafts, face painting and airbrush tattoos. Scoop-itz can be found online at http://www.partypop.com/v/4252255.
About PartyPOP.com: the largest party, wedding and event planning online network:
Before the Internet era, the professionals at PartyPOP.com were successful hands-on party planners and special event producers. For more than a decade PartyPOP has translated 30 years of party planning experience onto the Internet. Millions of vendors are listed on the network consisting of 60+ websites and tens of millions of customers have used the network to plan their parties, weddings and events. PartyPOP.com also provides party and event related tips, themes and ideas, as well as a free full wedding planning software called Seating Arrangement.
About Free Printed Invitations by PartyPOP.com:
PartyPOP provides every bride and groom across the USA, Canada and the U.K. with free beautifully designed wedding invitations, printed on 80lbs card stock paper with matching envelopes and wedding website. Even door to door shipping is included at no cost. There are no hidden fees, no obligations to buy and no strings attached!