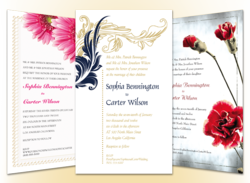 PartyPOP.com features two million highly accomplished and professional companies in the event planning industry.
(PRWEB) April 25, 2012
PartyPOP.com recently announced free wedding invitations and an RSVP website for any engaged couple in the United States, Canada and the United Kingdom. The company has re-purposed their 2012 marketing budget in hopes of building brand awareness and loyalty. According to reports from within the Southern California based company, it's working.
PartyPOP.com features over 2 million highly accomplished and professional companies in the event planning industry. Some of these companies include Jolly Bouncers, Aida's Touch of Class and Always Bouncin'.
Jolly Bouncers is based in Simi Valley, California. The company specializes in bringing any party to life with bounce houses, wet and dry bouncers with slides, large combos, interactive games, rock wall and quad bungee jumps. Party accessories including food, tables, chairs, and concession machines are available as well. Other than bouncers balloons and dunk tanks, Jolly Bouncers provides pony rides, clowns, face painting and henna tattoos. A DJ is always available and customers can also enjoy available package deals and midweek and combo specials. Jolly Bouncers can be contacted online at http://www.partypop.com/v/4115729.
Aida's Touch of Class has been providing custom floral and balloon art to the San Diego County area for over five years. Aida is a florist and certified balloon artist with a focus on customer satisfaction. She has been extensively trained in all of the latest techniques and can offer new and unique floral and balloon arrangements that will make client's event memorable. The Aida's Touch of Class staff is experienced in serving the people of San Diego County and is happy to share their extensive portfolio. All employees place customer's desires first and strive to serve client's needs at all times. More information can be found online at http://www.partypop.com/v/4053666.
Always Bouncin' is located in San Diego, California. The family owned and operated company serves both small and large scale corporate events with jumpers, combos, slides, obstacles and interactives. Always Bouncin' now rents out a Disney Princess Castle and 13X13Tinker Bell, Sesame Street, Madagascar and Disney Cars. The company uses quiet and safe fans to fill the jumpers, slides, and obstacles. Always Bouncin' is insured and customers get safety instructions on each jumper. More information can be found online at http://www.partypop.com/v/4123987.
About PartyPOP.com: the largest party, wedding and event planning online network:
Before the Internet era, the professionals at PartyPOP.com were successful hands-on party planners and special event producers. For more than a decade PartyPOP has translated 30 years of party planning experience onto the Internet. Millions of vendors are listed on the network consisting of 60+ websites and tens of millions of customers have used the network to plan their parties, weddings and events. PartyPOP.com also provides party and event related tips, themes and ideas, as well as a free full wedding planning software called Seating Arrangement.
About Free Printed Invitations by PartyPOP.com:
PartyPOP provides every bride and groom across the USA, Canada and the U.K. with free beautifully designed wedding invitations, printed on 80lbs card stock paper with matching envelopes and wedding website. Even door to door shipping is included at no cost. There are no hidden fees, no obligations to buy and no strings attached!