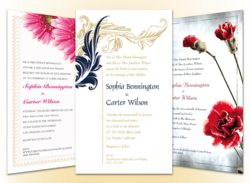 PartyPOP.com features experienced vendors in the party, wedding and event industry.
(PRWEB) April 26, 2012
PartyPOP.com recently announced free wedding invitations and an RSVP website for any engaged couple in the United States, Canada and the United Kingdom. The company has re-purposed their 2012 marketing budget in hopes of building brand awareness and loyalty. According to reports from within the Southern California based company, it's working.
PartyPOP.com features over 2 million highly accomplished and professional companies in the event planning industry. Some of these companies include Balloon Master's, Inc. and The Glasshouses.
Established in 1989, Balloon Master's, Inc. is one of Central Ohio's oldest hot air balloon ride companies. Over the years, Balloon Master's, Inc. has commercially flown for companies such as Arlington Hair Studio, The Fifty-Five Restaurant Group, CD-101 Radio, Realty Executives, Columbia Gas of Ohio, Three-C Body Shop's, Inc., many churches, business's and private passengers in the Central Ohio Area.
Balloon Master's, Inc. works with their sponsors and offers passenger ride Tethers at local festivals. The pilots, Tom Furlong and John Kennard are commercially rated and insured with over twenty-eight years experience flying hot air balloons. The Hot Air Balloons are well maintained and are "certified and registered" with the FAA. The company offers customers the finest experience in Ballooning through rides, gift certificates, advertising, pilot training, and tether rides for special events. Balloon Master's, Inc. can be found online at http://www.partypop.com/v/1922342.
Located in the Chelsea Arts Tower in the center of the art community, Glasshouses 14 and 21 are premier event spaces in New York City. Both the location and the space itself provide an excellent setting for all types of events including: Weddings, Fundraisers, Corporate Receptions and Fashion Shows. Specifications include eleven and fourteen foot ceilings depending upon the floor, incredible waterfront views of lower Manhattan, Hudson River and Upper West Side, a fully equipped catering kitchen, beautiful terrazzo floors and adjustable built in lighting for all types of events. The Glasshouses can be found online at http://www.partypop.com/v/4381925.
About PartyPOP.com: the largest party, wedding and event planning online network:
Before the Internet era, the professionals at PartyPOP.com were successful hands-on party planners and special event producers. For more than a decade PartyPOP has translated 30 years of party planning experience onto the Internet. Millions of vendors are listed on the network consisting of 60+ websites and tens of millions of customers have used the network to plan their parties, weddings and events. PartyPOP.com also provides party and event related tips, themes and ideas, as well as a free full wedding planning software called Seating Arrangement.
About Free Printed Invitations by PartyPOP.com:
PartyPOP provides every bride and groom across the USA, Canada and the U.K. with free beautifully designed wedding invitations, printed on 80lbs card stock paper with matching envelopes and wedding website. Even door to door shipping is included at no cost. There are no hidden fees, no obligations to buy and no strings attached!