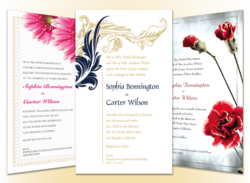 PartyPOP.com features professional and dedicated vendors in the party, wedding and event industry.
(PRWEB) May 01, 2012
PartyPOP.com recently announced free wedding invitations and an RSVP website for any engaged couple in the United States, Canada and the United Kingdom. The company has re-purposed their 2012 marketing budget in hopes of building brand awareness and loyalty. According to reports from within the Southern California based company, it's working.
PartyPOP.com features over 2 million highly accomplished and professional companies in the event planning industry. Some of these companies include Specialized Wedding Services, Middle Eastern Belly Dancer Krystal and NYC Jazz Cocktail.
Specialized Wedding Services situated in Palm Springs, California is a nondenominational, religious and interfaith wedding ministry. The service was created over 20-years ago, so that the discriminating bride and groom might express their loving commitment to one another in a unique and truly beautiful wedding ceremony. Specialized Wedding Services has two licensed, ordained interfaith ministers to serve clients. The ministers are Reverend Virginia Surrell and Reverend Stan Jacobson. Both provide clients with free personal consultation regarding their wedding ceremony.
Specialized Wedding Services officiate at wedding ceremonies for couples coming from a wide variety of religious traditions, as well as for those who prefer not to identify with any religion. Alternative lifestyles are welcome and Commitment Ceremonies are gladly performed. Whether a large wedding at an elegant hotel or country club, or a small wedding in Specialized Wedding Services' lovely Garden Chapel, Specialized Wedding Services will happily perform the service.
Additionally, the Reverends furnish Wedding Ceremonial and Information Packages. The packages contain a variety of time-tested ceremonial selections from which to choose. These selections, together with other requested information, form the foundation of what will become a highly tailored, very personal and customized wedding ceremony. If preferred, Reverends Virginia and Stan help couples write their own very special wedding vows, further customizing the marriage ceremony. Specialized Wedding Services only officiate at one wedding on any given day to cater to client's needs and maintain Commercial General Liability Insurance coverage. More information can be found online at http://www.partypop.com/v/2043622.
Middle Eastern Belly Dancer Krystal serves New York City, New York. Krystal comes from an Armenian, Lebanese heritage with a variation of ethnic music. Each occasion is treated as a unique event customized to customer's tradition and taste. Krystal's high standards are detailed in every sense. With her Armenian upbringing Krystal fell in love with Middle Eastern music and dance. She began belly dancing at the age of five and has many years of experience as an entertainer.
Krystal has also appeared on TV, QPTV show; Channel 56, choreographed, and presently teaches. Krystal performs regularly at Byblos in NY, NY Rendez-vous, NY Horus, Zerza, Le Caire and Casa Romana in Queens. Her performances are very unique with a style that commands attention and admiration from audiences of all backgrounds. Krystal performs to a variety of music such as Arabic, Turkish, Egyptian and Israeli. Her experience has earned her the reputation of being one of the most popular belly dancers in the New York City area. More information can be found online at http://www.partypop.com/v/4094735.
NYC Jazz Cocktail has been entertaining New York City for close to a decade. Saxophonist and flutist Laura Dreyer and pianist Kate Cosco can perform together as an instrumental duo or combine additional musicians to form a trio or quartet upon request. Both Laura and Kate are established performers in their own right and can augment the ensemble to include guitar, bass, drums, percussion and vocals in addition to piano and woodwinds. Together they bring their unique jazz sensibilities to enhance any occasion. NYC Jazz Cocktail provides the perfect musical ambiance for your cocktail hour, wedding ceremony, private party, or corporate event. Their demos provide a brief sampling of their musical expertise and the musicians are also happy to customize their repertoire in accordance with customer's requests. More information can be found online at http://www.partypop.com/v/4342707.
About PartyPOP.com: the largest party, wedding and event planning online network:
Before the Internet era, the professionals at PartyPOP.com were successful hands-on party planners and special event producers. For more than a decade PartyPOP has translated 30 years of party planning experience onto the Internet. Millions of vendors are listed on the network consisting of 60+ websites and tens of millions of customers have used the network to plan their parties, weddings and events. PartyPOP.com also provides party and event related tips, themes and ideas, as well as a free full wedding planning software called Seating Arrangement.
About Free Printed Invitations by PartyPOP.com:
PartyPOP provides every bride and groom across the USA, Canada and the U.K. with free beautifully designed wedding invitations, printed on 80lbs card stock paper with matching envelopes and wedding website. Even door to door shipping is included at no cost. There are no hidden fees, no obligations to buy and no strings attached!