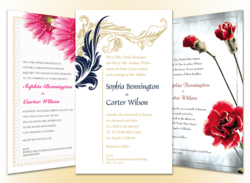 PartyPOP.com features highly accomplished and professional vendors in the party, wedding and event industry.
(PRWEB) May 02, 2012
PartyPOP.com recently announced free wedding invitations and an RSVP website for any engaged couple in the United States, Canada and the United Kingdom. The company has re-purposed their 2012 marketing budget in hopes of building brand awareness and loyalty. According to reports from within the Southern California based company, it's working.
PartyPOP.com features over 2 million highly accomplished and professional companies in the event planning industry. Some of these companies include Captain Katie, Michelle Sell and Choreography Impressions.
Maggie's Wish is a 40 ft. Silverton Motor yacht fully equipped with 2 state rooms, 2 full bathrooms, living room, full kitchen, dinette, sunroom and fly bridge which are just a few of the luxury amenities of this pristine vessel. Katie Hansen is an experienced boating Captain who's boating expertise and experience spans over 30 years of cruising and exploring the South Shore of Long Island. She has taught hundreds of people and holds a Masters 100 Ton License.
The cruising experience includes gourmet hot and cold appetizer choices served to guests by a professional wait staff. Katie and her crew will always be mindful of customer's privacy and special time with friends. Nothing on this vessel is off limits to clients and their guests. The wait staff is there to make sure that drinks are always fresh and the blender is always turning. The safety and comfort of customers are the number one concern. Katie will take the mystery out of the craft and ease all client's boating woe's. Katie also covers everything needed to enjoy a summer boating experience with family and friends in a comprehensive and informative seminar. More information can be found online at http://www.partypop.com/v/4312214.
Michelle Sell is a professional event harpist based in the San Francisco Bay area of Northern California. Michelle performs at weddings, wedding receptions, special events, concerts, theaters, birthdays, fundraisers, retirement parties, memorials and funerals, holiday affairs and records albums throughout the United States. In addition, Michelle's local Bay Area venues encompass Alameda, Contra Costa, San Mateo, Santa Clara, Solano and Wine Counties Napa and Sonoma. Michelle can provide harp music as a solo harpist, or accompanied by flute, cello, or violin duet or ensemble musicians. She also maintains a harp teaching and sonic therapy practice in Marin County, California.
Michelle enjoys an extremely active career as an acclaimed harpist. Since 1977, Michelle has played at thousands of professional engagements. She has performed for the Queen and King of Thailand, the Grand Duke and Duchess of Luxembourg and former President Jimmy to name a few. Michelle is an alumna and former faculty member of San Francisco Conservatory of Music where she studied classical music with Marcella DeCray. She is also an award winning "pops" and jazz harpist.
Michelle's instrumental styles are diverse and extensive, ranging from Bach to Cole Porter, rock to new age. Michelle is also a composer for Omni Music in New York. Her original music compositions have been used on television, radio, and in motion pictures. She has worked with bands, vocalists, instrumentalists and recording artists, including, among others: Frank Sinatra, Tony Bennett, Tom Jones and more. She was also casted as the wedding harpist in the Sony Pictures movie, "Rent." Michelle believes that her clients are entitled to professionalism, punctuality and courtesy. More information can be found online at http://www.partypop.com/v/3683948.
Based in Los Angeles, California, Choreography Impressions offers unique ballroom choreography for any event, along with private and group classes. The company emphasizes building technique, discipline and dedication to make every event a success. Choreography Impressions offers the best choreographers in the field to make events memorable and leave both clients and their guest with an amazing impression. The dance styles for special event include: the grand entrance, father and daughter dance, the waltz, and the surprise dance. Other dance styles offered are, the traditional waltz, Viennese waltz, Tango, Flamenco, Salsa, Merengue, Hip-Hop, East Coast Swing, West Coast Swing, Cumbia, Cha-cha and Lindy Hop. For wedding couples, Choreography Impressions offers the Waltz, East and West Coast Swing, Tango, Salsa, and the Foxtrot. The instructors can accommodate beginner, intermediate or advance students.
Choreography Impressions also offers group dance classes for adults and teens. Lessons focus on learning different dance styles of client's choice while customers are rehearsing for a quince, sweet sixteen or debutante. Dance styles include Salsa, Merengue, Cumbia and cha-ch and Zumba. Additionally, Choreography Impressions offers live entertainment for any event. The professional choreographers/dancers can also be hired to dance a choreographed piece at an event. Clients can request one, two or three couples. The Choreographed pieces include Salsa and Cha-Cha. The company also offers private dance instruction and one on one or couple instructions. More information can be found online at http://www.partypop.com/v/4050331.
About PartyPOP.com: the largest party, wedding and event planning online network:
Before the Internet era, the professionals at PartyPOP.com were successful hands-on party planners and special event producers. For more than a decade PartyPOP has translated 30 years of party planning experience onto the Internet. Millions of vendors are listed on the network consisting of 60+ websites and tens of millions of customers have used the network to plan their parties, weddings and events. PartyPOP.com also provides party and event related tips, themes and ideas, as well as a free full wedding planning software called Seating Arrangement.
About Free Printed Invitations by PartyPOP.com:
PartyPOP provides every bride and groom across the USA, Canada and the U.K. with free beautifully designed wedding invitations, printed on 80lbs card stock paper with matching envelopes and wedding website. Even door to door shipping is included at no cost. There are no hidden fees, no obligations to buy and no strings attached!