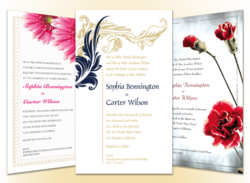 PartyPOP.com features professional vendors in the party, wedding and event industry.
(PRWEB) May 03, 2012
PartyPOP.com recently announced free wedding invitations and an RSVP website for any engaged couple in the United States, Canada and the United Kingdom. The company has re-purposed their 2012 marketing budget in hopes of building brand awareness and loyalty. According to reports from within the Southern California based company, it's working.
PartyPOP.com features over 2 million highly accomplished and professional companies in the event planning industry. Some of these companies include Gerratano's Catering, The Party Elf and Jeff Carson.
Gerratano's Catering serves Rochester, New York. Owner Johnny 'G' has been in the restaurant and catering business for 20 years; he has built a reputation on personal attention and customer satisfaction. Excellent food and value are keys to his success. Whether catering a corporate or private, large or intimate event, Gerratano's Catering always makes sure everything goes in accordance with each customer's needs.
Gerratano's Catering is the former owner of Gerratano's Restaurant and all selections are prepared by former chefs of the Portico Restaurant. The company offers a special promotion of free samples for meetings or small events of less than 15 people as a way to show that clients will be satisfied with the products and services. Clients can also completely customize their buffet package to suit their particular needs. More information can be found online at http://www.partypop.com/v/4347450.
The Party Elf is celebrating its 8th year as one of Long Island's premier party staffing services. The company provides quality services with a continuous commitment to customer service. The Party Elf is an all-occasion party service and event planning company. From backyard barbecues to large corporate events, The Party Elf can accommodate customer's needs. The company is the premier bartender and food server staffing company in the Long Island metropolitan area, serving Suffolk and Nassau counties. The wait staff, bartenders and grillers are professionally trained and can handle any size event. The party service packages includes pre- party set up and clean up, buffet set up, coat check, bar set up and more. Additionally, The Party Elf also provides holiday services for Christmas, New Year's Eve, Super Bowl Sunday, Hanukkah and more.
The Party Elf also provides a full staff of experienced professional grillers, chef/food prep personnel, wait staff and bartenders for any event, big or small. Garden weddings are one of the company's specialty and the experienced party coordinators are there to help clients with all the details. The Party Elf works with the best Long Island has to offer for all equipment rental needs. The company has a network of reliable companies that can provide tents, tables, linens, chairs, frozen drink machines and hot dog machines to name a few. Other party specialties include clowns and magicians. The Party Elf protects clients and staff by ensuring all staff is covered by Workers' Compensation, General Liability Insurance and Umbrella/ Excess Liability Insurance. More information can be found online at http://www.partypop.com/v/4249708.
Jeff Carson is a comedian and magician located in New Jersey who entertains both corporate and private events. His performances are family friendly, clean, original, hilarious and highly interactive. He creates an entertainment experience that is absolutely memorable and guaranteed to please even the most discerning spectators. Jeff can enchant an audience of thousands on stage with his eccentric, charismatic personality and wonderfully funny routines. He can also mingle at an event with just a few guests, performing intimate and amazing sleight- of-hand magic.
Jeff is not only a magician and comedian; he is also a professional juggler. He started performing 35 years ago at the age of 8. After earning a college degree in Theater and Speech Communication he immediately became a full time professional entertainer. Since then he has appeared on talk shows, documentaries and on radio demonstrating his performance style. He has performed for corporations, colleges, cruise ships and private parties across the country. Additionally, he also performs at cocktail parties, fundraisers, school shows, business meetings as well as trade shows and product promotions, holiday parties, conventions, birthday parties and more. Whatever size audience Jeff performs for, the feeling is always intimate, casual, and fun. Jeff Carson can be found online at http://www.partypop.com/v/4353465.
About PartyPOP.com: the largest party, wedding and event planning online network:
Before the Internet era, the professionals at PartyPOP.com were successful hands-on party planners and special event producers. For more than a decade PartyPOP has translated 30 years of party planning experience onto the Internet. Millions of vendors are listed on the network consisting of 60+ websites and tens of millions of customers have used the network to plan their parties, weddings and events. PartyPOP.com also provides party and event related tips, themes and ideas, as well as a free full wedding planning software called Seating Arrangement.
About Free Printed Invitations by PartyPOP.com:
PartyPOP provides every bride and groom across the USA, Canada and the U.K. with free beautifully designed wedding invitations, printed on 80lbs card stock paper with matching envelopes and wedding website. Even door to door shipping is included at no cost. There are no hidden fees, no obligations to buy and no strings attached!