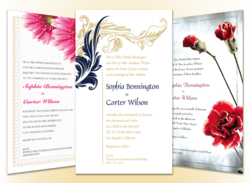 PartyPOP features ambitious vendors in the party, wedding and event industry.
(PRWEB) May 07, 2012
PartyPOP.com recently announced free wedding invitations and an RSVP website for any engaged couple in the United States, Canada and the United Kingdom. The company has re-purposed their 2012 marketing budget in hopes of building brand awareness and loyalty. According to reports from within the Southern California based company, it's working.
PartyPOP.com features over 2 million highly accomplished and professional companies in the event planning industry. Some of these companies include The Arthur Murray Dance Studio, Center of Attention and Champagne Limousine.
The Arthur Murray Dance Studio is located in Madison and Eau Claire, Wisconsin. The company is a leading and the largest dance organization in the world. Arthur Murray has 280 studios in 20 different countries. The company specializes in providing private and group Ballroom and Latin dance lessons to individuals of all ages and skill levels. The Arthur Murray Dance Studio is a place to focus as well as a place for a creative opportunity to socialize. The most popular dances include Ballroom, Latin, West Coast and East Coast Swing, Argentine Tango, Country Western, Salsa, Merengue and more.
The Arthur Murray technique has been perfected over the past century. Trainers from the Arthur Murray corporate headquarters travel around the world to each studio to coach instructors periodically. Customers learn from the most qualified teachers. The company utilizes a comparative style of teaching called the Arthur Murray Method, which enables students to learn the skills needed for dancing in the most efficient way possible. The goal is to help clients get out on the dance floor as soon as possible. Each instructor has a different teaching style and adapt with each student as they progress.
Instructors at The Arthur Murray Dance Studio analyze learning styles and needs as client's progress and pair students with the most appropriate instructors and partners. Students at Arthur Murray are entitled to participate in group lessons, practice parties and other special events such as competitions and black-tie dinners. Students will have ample opportunities to practice their skills in lively and welcoming party environments with teachers and other students. For almost a century, the Arthur Murray method of private, group and practice sessions has helped people from all walks of life to become confident on the dance floor. More information can be found online at http://www.partypop.com/v/1261186.
Center of Attention is a knowledgeable bridal specialist company serving Mahoning, Trumbull, Mereer, and Columbiana counties. The company's mission is to provide clients with everything needed to make client's wedding day absolutely unforgettable. With over 25 years combined experience in the industry, Center of Attention's specialists will help advise clients on everything from formulating a realistic budget to coordinating color schemes and themes. Center of Attention's unique range of services guarantees a quality event. Whether clients imagine a traditional wedding or an enchanting departure from the norm, the company can help customers become a reality.
Established by Mary Kay Erickson in 2005, Center of Attention was created to address the shortage in professional wedding decorators in Northeast Ohio. Today, Marye Kay and her friendly staff of bridal specialists work hard to provide brides in the area as well as Sharon, Hermitage and New Castle with expert wedding advice. Center of Attention can be contacted online at http://www.partypop.com/v/4314424.
Located in Chicago, Illinois, Champagne Limousine aims to provide customers with Red Carpet Treatment along with standard Limousine Service. Limo drivers are attentive and focused on making clients happy. Available limos include 10, 12, 14, 16, 18, 22, 26 passenger stretch limousines. 22 Passenger Ford excursion limo, 16 passenger Chrysler 300 limo, luxury Sedan, Super Stretch, SUV Limo and Hummer limo. Clients can also choose 6, 8, 10 passenger limousines for their special day. Champagne Limousine's wedding consultants will be happy to help select decorations, champagne or make any other arrangements for their client's special day.
Services are provided during weddings, proms, bachelor or bachelorette parties, holiday parties, concerts, dinners, anniversaries and more. Limousine extras include tuxedo or black suit driver, a free bottle of Champagne, fully equipped mini-bar, magnetic wedding signs, full decorations and red carpet. Champagne Limousine also offers economy sedan service specially designed for a more economical way to travel. More information can be found online at http://www.partypop.com/v/3216894.
About PartyPOP.com: the largest party, wedding and event planning online network:
Before the Internet era, the professionals at PartyPOP.com were successful hands-on party planners and special event producers. For more than a decade PartyPOP has translated 30 years of party planning experience onto the Internet. Millions of vendors are listed on the network consisting of 60+ websites and tens of millions of customers have used the network to plan their parties, weddings and events. PartyPOP.com also provides party and event related tips, themes and ideas, as well as a free full wedding planning software called Seating Arrangement.
About Free Printed Invitations by PartyPOP.com:
PartyPOP provides every bride and groom across the USA, Canada and the U.K. with free beautifully designed wedding invitations, printed on 80lbs card stock paper with matching envelopes and wedding website. Even door to door shipping is included at no cost. There are no hidden fees, no obligations to buy and no strings attached!