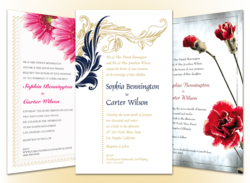 PartyPOP collaborates with vendors to get free printed wedding invitations to any bride and groom in the United States, Canada and the United Kingdom.
(PRWEB) May 08, 2012
PartyPOP.com recently announced free wedding invitations and an RSVP website for any engaged couple in the United States, Canada and the United Kingdom. The company has re-purposed their 2012 marketing budget in hopes of building brand awareness and loyalty. According to reports from within the Southern California based company, it's working.
PartyPOP.com features over 2 million highly accomplished and professional companies in the event planning industry. Some of these companies include Green Affairs, In The Mood DJ Entertainment, Ebony Child and Ice Cream Truck Family.
Green Affairs is a division of Tropical Services Inc. and Florida's premier party and event plant Rental Company. The company is located in Miami and supplies superior plants in South Florida for conventions, corporate meetings, special events, graduations and parties. Popular event services include weddings, birthdays and corporate events. Green Affairs' designer will recommend plants for customer's specific needs. Presentation includes, but is not limited to stone or terracotta pots. Spotlights or white twinkle lights are also available. Selection of plants include a variety of large and small palms, Italian cypress, ficus standards and topiaries, bird of paradise, ferns, bougainvillea and more. More information can be found online at http://www.partypop.com/v/4121437.
In The Mood DJ Entertainment serves Fort Myers, Florida. The company's mission is to provide outstanding entertainment with a focus on personalized service and business values. In The Mood DJ Entertainment has been providing music and entertainment in Southwest Florida since 1996. The company is fully licensed and insured and possesses state of the art equipment, backup equipment and staff. Additionally, clients will enjoy a wide variety of music from The Big Band Era to today's top 40 hits and everything in between including Country, Latin, R&B and Hip Hop. The Mood DJ Entertainment also has a wide variety of different language speaking DJ's to serve the needs of various customers.
During a wedding In The Mood DJ Entertainment will interact with guests while never upstaging the bride and groom. Other events include: school functions, anniversaries, corporate events, sweet sixteen and quinceaneras. The company has fully trained MC's and Disc Jockey entertainers that play a wide variety of music from the 1940's to today's hottest hits and everything in between. In The Mood DJ Entertainment customizes the type of entertainment and music according to client's requests. In The Mood DJ Entertainment provides four essential services at most events; music programming, Master of Ceremonies, event coordination and DJ entertainment. Each element is customized, so every client gets the atmosphere and style of performance they want. More information can be found online at http://www.partypop.com/v/4066076.
Located in Raleigh, North Carolina, Ebony Child offers face painting, freelance photography and balloon twisting for party entertainment. Founded by artist Ebony Anderson to create and enhance fun in the lives and celebrations of children and the young-at-heart, the company has over four years of experience in providing professional services for corporate, residential and non-profit events. Additionally, Ebony child create original fine art and murals for any space needing warmth, fun and color.
Ebony Child uses safe professional quality FDA compliant cosmetic makeup and paints 12-15 faces per hour depending on the design chosen. Ebony creates beautiful butterflies, cute puppies, kitties, exotic animals and perfect princesses to name a few. Customers can also enjoy face and body painting for photo shoots. Ebony Child works with three local photographers to provide fun, memorable, and professional pictures. Other services include adult body painting, belly painting and a variety of party packages for boys, girls and everyone interested. More information can be found online at http://www.partypop.com/v/4387234.
Ice Cream Truck Family serves Atlanta, Georgia. The company brings ice cream to its customers, serving all over Georgia and surrounding states. Patrons can choose form a wide selection of ice creams ranging from "Good Humor" to "Klondike." Categories include Bomb Pops, Snow Cones, Character Faces, Creamy Bars, Ice Cream Sandwiches, Ice Cream Cones, Yummy Cups, Kids Favorites and No Sugar. The company enjoys bringing a truck filled with ice cream to customers of all ages into a subdivision, apartment community, daycare, church or any special event and seeing the smiles on all of their client's faces. Ice Cream Truck Family caters to friends, family and community events, anniversary parties, backyard pool parties, bar/bat mitzvahs, birthday parties, church picnics and socials as well as country club socials, family reunions, graduation parties and wedding receptions to name a few. More information can be found online at http://www.partypop.com/v/4337044.
About PartyPOP.com: the largest party, wedding and event planning online network:
Before the Internet era, the professionals at PartyPOP.com were successful hands-on party planners and special event producers. For more than a decade PartyPOP has translated 30 years of party planning experience onto the Internet. Millions of vendors are listed on the network consisting of 60+ websites and tens of millions of customers have used the network to plan their parties, weddings and events. PartyPOP.com also provides party and event related tips, themes and ideas, as well as a free full wedding planning software called Seating Arrangement.
About Free Printed Invitations by PartyPOP.com:
PartyPOP provides every bride and groom across the USA, Canada and the U.K. with free beautifully designed wedding invitations, printed on 80lbs card stock paper with matching envelopes and wedding website. Even door to door shipping is included at no cost. There are no hidden fees, no obligations to buy and no strings attached!