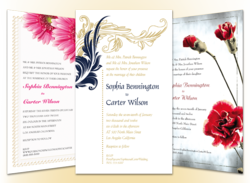 PartyPOP features dedicated vendors in the party, wedding and event industry.
(PRWEB) May 10, 2012
PartyPOP.com recently announced free wedding invitations and an RSVP website for any engaged couple in the United States, Canada and the United Kingdom. The company has re-purposed their 2012 marketing budget in hopes of building brand awareness and loyalty. According to reports from within the Southern California based company, it's working.
PartyPOP.com features over 2 million highly accomplished and professional companies in the event planning industry. Some of these companies include Melody's Skincare, Quality Entertainment, Custom Cakes by Christina and Can-Do Promotions, Inc.
Melody is a Master Esthetician who recently relocated from Orange County, CA to Maumelle, Arkansas and began Melody's Skincare. Melody has over 15 years of experience as a skincare professional. She works with Alexandria Body Sugar Hair Removal, is a Jane Iredale Professional, and an award winning makeup artist. She operates out of Noggins Salon in Maumell - where customers receive service in a beautiful skincare suite at a professional make-up studio. Melody uses safe and proven organic and the high level skincare products. Services include facials, back treatments, microdermabrasion treatments, chemical peels, body sugaring hair removal, reflexology, stress reduction treatments and bio-therapeutic treatments.
Melody also uses and retails a full line of Dermalogica Skin Care, Jane Iredale - The Skin Care Makeup and work with Temptu professional air-brushing services, products and techniques. Her goal is to use her years of education and training to help improve and maintain customer's healthy skin. She is able to treat all types of adverse skin conditions including Acne (teen or adult), Anti-Aging, Hyper-Pigmentation, Scars, Large Pores, Uneven Skin Tone, Oily, Dry and Sensitive Skin. Clients will also enjoy a professional Jane Iredale and Temptu makeup setting. Free consults are available upon client's request to help find out what customers needs are. More information can be found online at http://www.partypop.com/v/4381599.
As a member of the Southland Better Business, Quality Entertainment has been serving Southern California for over a decade. The company provides quality, affordable, and professional entertainment to events of any size. Professional entertainers come costumed as colorful clowns, whimsical characters, or action heroes. Performances are always lively with talented performers on stage that invite audience participation, particularly during puppet or magic shows. Quality Entertainment also offers safe and friendly animals for petting zoos and pony rides. The company performs at parties, birthdays, picnics, corporate events and special and memorable occasions. More information can be found at http://www.partypop.com/v/4389183.
Custom Cakes by Christina serves Houston, Texas. The company thrives on customer satisfaction and makes sure all clients' needs are met. All cakes are custom designed and baked to order and never frozen. Christina has 15 years of experience serving customers and always looks forward to customizing cakes for a variety of events. Common occasions include weddings, graduations, baby showers and more. Customers can choose from a wide selection of flavors demonstrated on the website to order cakes, cupcakes, or cake pops. More information can be found online at http://www.partypop.com/v/4382665.
Can-Do Promotions, Inc. has been serving Cleveland, Ohio for over 50 years. The company is all about moving businesses in a Positive Direction through promotion, recognition, motivation and communication. The strength of Can-Do Promotions lies in providing creative value added service to clients. The company prides itself in their ability to develop concepts that create impact and involvement for effective brand marketing and employee development. Some of Can-Do Promotions' services that can create lasting impact include brand merchandise and campaigns, printed media, one to one marketing, business document and management services, multimedia and eCommerce solution. Can-Do Promotions, Inc. can be found online at http://www.partypop.com/v/4121590.
About PartyPOP.com: the largest party, wedding and event planning online network:
Before the Internet era, the professionals at PartyPOP.com were successful hands-on party planners and special event producers. For more than a decade PartyPOP has translated 30 years of party planning experience onto the Internet. Millions of vendors are listed on the network consisting of 60+ websites and tens of millions of customers have used the network to plan their parties, weddings and events. PartyPOP.com also provides party and event related tips, themes and ideas, as well as a free full wedding planning software called Seating Arrangement.
About Free Printed Invitations by PartyPOP.com:
PartyPOP provides every bride and groom across the USA, Canada and the U.K. with free beautifully designed wedding invitations, printed on 80lbs card stock paper with matching envelopes and wedding website. Even door to door shipping is included at no cost. There are no hidden fees, no obligations to buy and no strings attached!