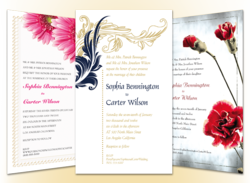 PartyPOP features dedicated vendors in the party, wedding and event industry.
(PRWEB) May 11, 2012
PartyPOP.com recently announced free wedding invitations and an RSVP website for any engaged couple in the United States, Canada and the United Kingdom. The company has re-purposed their 2012 marketing budget in hopes of building brand awareness and loyalty. According to reports from within the Southern California based company, it's working.
PartyPOP.com features over 2 million highly accomplished and professional companies in the event planning industry. Some of these companies include Southern Drawl Yacht Charters, LLC, Mister Frosty and Mobile Day Spa – Your Spa Escape.
Southern Drawl Yacht Charters, LLC is a Yacht Charter for special events in Charleston, South Carolina. Clients can create their most memorable event cruising the beautiful waterways surrounding Charleston in style. Guests can choose to use Southern Drawl's catering, use their own Caterer or simply bring their own provisions for the journey. Popular Southern Drawl Yacht Charters include 50th wedding anniversary- A true family affair, birthday parties, rehearsal dinners and weddings, cocktail parties, corporate events, harbor cruises and a variety of special occasions. More information on Southern Drawl Yacht Charters can be found online at http://www.partypop.com/v/4355022.
Mister Frosty, Inc has been serving Ice Cream in Toledo, Ohio since 1968. Customers can schedule a truck for a variety of occasions by submitting a form online. Desserts range from Snow Cones, Character Faces and Creamy Bars to Ice Cream Sandwiches, and Ice Cream Cones. Online clients can get inspired by ice cream illustrations and book services for their next upcoming event. More information can be found online at http://www.partypop.com/v/4321780.
Mobile Day Spa – Your Spa Escape serves most areas in Minnesota and Western Wisconsin. Josi Wood has embraced the power of Spa for the past four years. Due to the positive impact it has made on her own life, Josi now strives to pass this on to others each and every day. Josi has a Master's background in environmental education. She is the Mobile Day Spa Director and a Certified National Senior Trainer. She says "Giving people their much deserved 'me time' is what everyone needs in their busy day-to-day activities of life. I love that I am able to give women a bounce to their step by giving them confidence in how they look, and keep their pocket book full with our incredibly affordable state-of-the art products that work". The products Josi uses are solely of BeautiControl, a nationally known company recognized in Forbes, Allure, and Oprah publications to name a few. More information can be found online at http://www.partypop.com/v/4356958.
About PartyPOP.com: the largest party, wedding and event planning online network:
Before the Internet era, the professionals at PartyPOP.com were successful hands-on party planners and special event producers. For more than a decade PartyPOP has translated 30 years of party planning experience onto the Internet. Millions of vendors are listed on the network consisting of 60+ websites and tens of millions of customers have used the network to plan their parties, weddings and events. PartyPOP.com also provides party and event related tips, themes and ideas, as well as a free full wedding planning software called Seating Arrangement.
About Free Printed Invitations by PartyPOP.com:
PartyPOP provides every bride and groom across the USA, Canada and the U.K. with free beautifully designed wedding invitations, printed on 80lbs card stock paper with matching envelopes and wedding website. Even door to door shipping is included at no cost. There are no hidden fees, no obligations to buy and no strings attached!