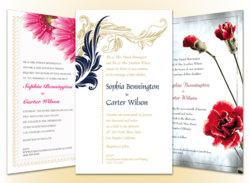 PartyPOP.com features over 2 million highly accomplished and professional companies in the event planning industry.
(PRWEB) May 20, 2012
PartyPOP.com recently announced free wedding invitations and an RSVP website for any engaged couple in the United States, Canada and the United Kingdom. The company has re-purposed their 2012 marketing budget in hopes of building brand awareness and loyalty. According to reports from within the Southern California based company, it's working.
PartyPOP.com features over 2 million highly accomplished and professional companies in the event planning industry. Some of these companies include Lalita - Professional Bellydancer New York, Great Scott It Must Be Magic, Jump Around, Balloon Flare and Festyval Tyme Event Planning.
Lalita is a professional Bellydancer in New York. Lalita's talent, beauty and passion for the art of Bellydance will light up the spirit of any party with exciting, family-appropriate and fun Bellydance Entertainment, complete with gorgeous costumes. Lalita is a passionate and engaging entertainer, whose artistic talent will bring Oriental Beauty to special celebrations, raise the energy of the party and will make every guest feel involved in the show. Her company "Magic Lantern" is based in Astoria, New York.
Magic Lantern provides Arabian-themed event planning, dance instruction and entertainment. Dance classes include an Egyptian dance class where students will learn progressively more difficult dance moves. Professional Bellydance Artists will bring high energy, artistic beauty and joyful spirit to your Special Celebration. Customers can choose between a mini Bellydance performance, classical Bellydance performance and a Bellydance show with theme décor, photography and videography package. Performances for parties include dancers with Isis Wings, Shamadan (Candelabra), Assaya (Cane), Sword or Candle-Tray, Finger Cymbals and Veil/Double-Veil. Spectacular Bellydance entertainment is provided for a variety of occasions including private parties, special events, weddings or cultural shows. More information can be found online at http://www.partypop.com/v/4342436.
Great Scott It Must Be Magic serves The Milwaukee, Wisconsin area. Scott Obermann has experience with hundreds of shows each year. He adapts his program and actually creates specialized programs for each type of audience. He keeps children laughing heartily at one performance and then has the same effect on a group of adults that evening. Versatility is the key. On the magic side; Scott will wow anyone with his wonderful close-up sleight-of-hand. His magical talents have entertained clients at some of the biggest companies in Wisconsin. Family audiences love Scott for his clean humor. His motto is "Always Family Friendly, Always Good Clean Fun!"
Scott found magic to be the one thing that most captured his creative interests. Now a full-time professional magician, Scott loves performing amazing magic for people of all ages. In 2010 he was voted "Best Party Entertainer" in the Milwaukee area. "It's just so much fun to entertain people with magic," says Scott. He's honed his skills and wit over the years to be able to provide an adult level, sophisticated, yet family friendly show. Scott's magic helps make an event more pleasant and memorable. More information can be found online at http://www.partypop.com/v/4106206.
Jump Around is a family owned and operated business serving Manchester, New Hampshire. Jump Around carries U.S. made Bounce Houses made of Heavy Duty, 18.5 o, Fire Retardant vinyl. The seams are double and triple stitched to make them the strongest in the industry. Rentals include 10x10 Bounce House with Themed Banner, Standard Bouncer, Bounce House/Slide Combo. Common events include birthdays and family gatherings. Jump Around mainly serves children and teens. More information can be found at http://www.partypop.com/v/4343649.
Balloon Flare serves Phoenix, Arizona. The company has been in business since 2000 and is a home based balloon décor business owned and operated by Diana Gault, CBA* and her husband Bill. Balloon Flare has decorated many memorable events and also delivers bouquets of balloons for any occasion. Whatever the event or occasion Balloon décor can add that extra spark and make any event extra special. More information can be found online at http://www.partypop.com/v/4114714.
Festyval Tyme Event Planning serves Chicago, Illinois. The company provides unique parties with full service coordination and attention to detail. Services include: global music, dance, games, costumes and facepainting. Festyval Tyme is based on the belief that customer's needs are of the utmost importance. The entire team is committed to meeting the need of clients at a variety of events. Theme parties are available for toddlers, teens and adults. Festival Tyme events include birthdays, picnics, reunions, summer camps, pre-schools, home or garden parties, community events and more. Customers can also contact Festyval Tyme for latest party trends, interactive and creative play for special celebrations. More information can be found at http://www.partypop.com/v/4391523.
About PartyPOP.com: the largest party, wedding and event planning online network:
Before the Internet era, the professionals at PartyPOP.com were successful hands-on party planners and special event producers. For more than a decade PartyPOP has translated 30 years of party planning experience onto the Internet. Millions of vendors are listed on the network consisting of 60+ websites and tens of millions of customers have used the network to plan their parties, weddings and events. PartyPOP.com also provides party and event related tips, themes and ideas, as well as a free full wedding planning software called Seating Arrangement.
About Free Printed Invitations by PartyPOP.com:
PartyPOP provides every bride and groom across the USA, Canada and the U.K. with free beautifully designed wedding invitations, printed on 80lbs card stock paper with matching envelopes and wedding website. Even door to door shipping is included at no cost. There are no hidden fees, no obligations to buy and no strings attached!