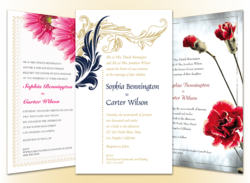 A real wedding revolution. Beautifully Designed Wedding Invitations and matching envelopes: Printed and shipped completely free to anyone in the USA, U.K. and Canada.
(PRWEB) February 07, 2012
PartyPOP.com, one of the world's largest online networks for party, wedding and event planning is giving away 100% free wedding invitations to all Brides and Grooms in the United States, U.K. and Canada. There are no fees for design, 80 lbs card stock paper, envelopes, printing or shipping through 2012. Also, there is no fee later, no need to buy anything or print anything at home. The Invitations are available at PartyPOP.com
PartyPOP is responding to the tough economy by offering free invitations for the entire year of 2012. The average cost of wedding invitations has been $659 (Source: Bridal Association of America). With more than 2.1 million weddings annually (Source: US Census) and an average cost per wedding of $25,630 (Source: The Wedding Report, Inc), PartyPOP is making a significant offer to brides, grooms and their parents.
Every couple that orders the invitations also gets immediate access to their own wedding website that matches the invitations. Couples are able to share their stories and pictures and link their website to social networks, communicate with their friends and give their wedding guests all necessary RSVP information!
About PartyPOP.com - the leading wedding, party and event online network:
Before the Internet era, the professionals at PartyPOP.com were successful hands-on party planners and special event producers. For more than a decade PartyPOP has translated 30 years of party planning experience onto the Internet. Millions of vendors are listed on the network consisting of 60+ websites and tens of millions of customers have used the network to plan their parties, weddings and events.
PartyPOP.com also provides party and event related tips, themes and ideas as well as a free full wedding planning software called Seating Arrangement.
About Free Print Invitations by PartyPOP
PartyPOP provides every bride and groom across the USA, Canada and the UK with free beautifully designed wedding invitations, printed on 80lbs card stock paper, plus matching envelopes and wedding website. Even the shipping door to door is free.
There are no hidden fees, no obligations to buy and no strings attached.
###