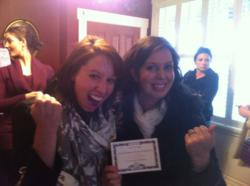 "Great Promotion! Brides need all the help they can get. I highly recommend this to any bridal show producer. Brides were asking for their Free Wedding Invitations at the door!"
-Wally Martin: Cinderella Bridal Show Producer
(PRWEB) March 22, 2012
Bridal Show producers in the United States, Canada and the U.K. are announcing a milestone after a little more than 30 days since the start of the Free Wedding Invitations Campaign 10,000 brides will be able to receive complimentary wedding invitations, designed, printed and shipped.
Driving traffic to an online site in the wedding industry is hard enough, but increasing foot traffic to an actual event...?
In February 2012, PartyPop.com started reaching out to bridal show producers offering free wedding invitations to all guests as an incentive to attend their shows. The campaign provides significant savings to couples (who also receive a free custom website), and a notable increase in attendance to show producers.
"As the producer of Show Bride, I believe this is a great option for brides looking to gain extra savings just for coming out to our shows," says Emer Lunasin, Show Bride Show Producer from Virginia Beach, VA
"Great Promotion! Brides need all the help they can get. I highly recommend this to any bridal show producer. Brides were asking for them at the door!" says Wally Martin, Cinderella Bridal Show Producer, Langley BC.
The 2012 campaign was built with the PartyPop.com marketing budget. "We just think it's more effective for the brand awareness of Bridal Shows to offer free products to people when they actually need them," a representative at PartyPop.com says. The numbers in attendance and orders have been increasing as wedding planning season is now in full swing.