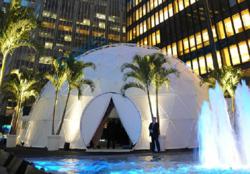 PartyPOP features over 2 million accomplished and professional vendors in the party, wedding, and event industry.
(PRWEB) April 16, 2012
PartyPOP.com recently announced free wedding invitations and an RSVP website for any engaged couple in the United States, Canada and the United Kingdom. The company has re-purposed their 2012 marketing budget in hopes of building brand awareness and loyalty. According to reports from within the Southern California based company, it's working.
PartyPOP.com features over 2 million highly accomplished and professional companies in the event planning industry. One of these companies is called: "The New Event Tent - Geodesic Domes."
In 1979, Madre Grande Monastery in Southern California had a shelter need for its members. A dozen domes were made, using steel tubing and sail cloth covers. The beautiful setting was in the high mountains, so windows for the view and woodstove outlets were designed into the covers creating an ideal shelter system. Since the domes were successful and the back to land movement was still strong in 1980, a business was born. Asha Deliverance, owner of Pacific Domes, picked up where R. Buckminster Fuller left off in solving man kind's housing problem with his geodesic design.
Asha has sent her portable geodesic domes all over the world for humanitarian efforts. The Ashland Daily Tidings writes in their article Gimme Shelter, "Soon after a massive earthquake struck the impoverished country of Haiti, Pacific Domes owner, Asha Deliverance, ordered her plant into full production. Her goal: to provide three domes to ensure shelter for emergency crews, who were working round the clock to rescue victims and perform triage. Deliverance had taken the same action twice before, when Hurricane Katrina struck New Orleans in 2005 and when mud slides devastated Honduras after Hurricane Andrew in 1992."
Over the past years, the need for larger and larger domes has maintained a constant growth. The larger domes have opened up uses to include both shelters and event structures. Once only providing temporary shelters, now Asha goes on to state that her company offers complete event solutions. Event Domes become the hit of every trade show, convention, party, and music festival. The entire interior is open to your creativity. The free-standing domes support lighting and sound equipment. Due to ease of portability, Pacific Domes are the strongest portable structures known to man.
Pacific Domes has been noted for their ability to produce "something unusual" and to adapt to unique job requirements. In Tents Magazine awarded Pacific Domes the Award of Excellence in 2008 after Premier Properties hired Pacific Domes to provide Santa Claus with a warm place to say during his visit to Plainview, Indiana (more Pacific Domes awards).
For those of you waiting for the prices to come down a little, every year in spring Pacific Domes host their Spring Sale when they mark off all stock inventory domes at a 20% discount. This is the time of year to showcase your new product in an eye catching environment, or finally purchase that yoga dome for your backyard you've been talking about. More information can be found online at http://www.partypop.com/v/4088358.
About PartyPOP.com: the largest party, wedding and event planning online network:
Before the Internet era, the professionals at PartyPOP.com were successful hands-on party planners and special event producers. For more than a decade PartyPOP has translated 30 years of party planning experience onto the Internet. Millions of vendors are listed on the network consisting of 60+ websites and tens of millions of customers have used the network to plan their parties, weddings and events. PartyPOP.com also provides party and event related tips, themes and ideas, as well as a free full wedding planning software called Seating Arrangement.
About Free Printed Invitations by PartyPOP.com:
PartyPOP provides every bride and groom across the USA, Canada and the U.K. with free beautifully designed wedding invitations printed on 80lbs card stock paper with matching envelopes and wedding website. Even door to door shipping is included at no cost. There are no hidden fees, no obligations to buy and no strings attached!