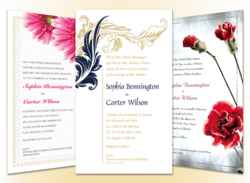 Vendors demonstrate their talents and experiences on the PartyPOP.com online network.
(PRWEB) March 15, 2012
PartyPOP.com recently made headlines by giving out free wedding invitations to any bride and groom in the United States, Canada, and the United Kingdom. PartyPOP.com already features more than two million special event professionals and is expanding every day with vendors listing their businesses on the network. Many of the party planning and special events professionals who have partnered with PartyPOP.com are now able to offer potential clients the same free wedding invitations.
PartyPOP.com features highly reputable and professional companies with a proven track record of success and customer satisfaction. Some of these companies include: The Sunshine Band, and Point of View Helicopter Services.
The Sunshine band started as The Jamaican One Man Band. The then sole musician had been performing the music of his homeland throughout the Midwest for over 15 years. He is a self-taught musician and entertainer who plays two keyboards with built-in drum machines and steel drum sounds complimented by professional audio equipment. In 2010, The Jamaican One Man Band added a female presence to the group and changed the name to The Sunshine Band.
Today, The Sunshine band has a very extensive repertoire, comprising hundreds of Reggae, Calypso, Soca, Latin, Hawaiian, and American songs. They perform at various occasions including college events, backyard parties, corporate events, boat cruises, weddings, birthday parties, holiday events and more. During all performances, spontaneous audience participation is always invited and even provoked creating a fun experience for everyone. The band also performs light steel drum songs, or delicate acoustic tunes for background music at cocktail receptions and dinner parties. The Sunshine Band can be contacted online at http://www.partypop.com/v/4124559.
Established in 2008 by Ed Friedman of Portland Oregon, Point of View Helicopter Services offers more than one would expect. Beyond leisure flights, the company provides: aerial photography, wildlife surveys, mapping, scenic flights, documentation of environmental hazards and violations, lifting of objects and more.
The company focuses on the Mid-coast region, but can go anywhere depending on the job. Ed Friedman has been licensed for more than 30 years and holds a private fixed wing and commercial rotorcraft license as well. The company primarily flys a Schweizer 300C, but also has access to other helicopters. Point of View Helicopter Services can be found online at http://www.partypop.com/v/4356012.
About PartyPOP.com- the largest party, wedding and event planning online network:
Before the Internet era, the professionals at PartyPOP.com were successful hands-on party planners and special event producers. For more than a decade PartyPOP has translated 30 years of party planning experience onto the Internet. Millions of vendors are listed on the network consisting of 60+ websites and tens of millions of customers have used the network to plan their parties, weddings and events. PartyPOP.com also provides party and event related tips, themes and ideas, as well as a free full wedding planning software called Seating Arrangement.
About Free Printed Invitations by PartyPOP.com:
PartyPOP provides every bride and groom across the USA, Canada and the U.K. with free beautifully designed wedding invitations, printed on 80lbs card stock paper with matching envelopes and wedding website. Even door to door shipping is included at no cost. There are no hidden fees, no obligations to buy and no strings attached!