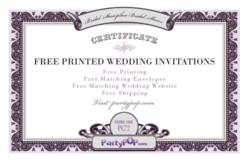 PartyPOP.com collaborates with vendors to get free designed, printed and shipped wedding invitations to any bride and groom in the United States, Canada and the United Kingdom.
(PRWEB) April 10, 2012
PartyPOP.com recently announced free wedding invitations and an RSVP website for any engaged couple in the United States, Canada and the United Kingdom. The company has re-purposed their 2012 marketing budget in hopes of building brand awareness and loyalty. According to reports from within the Southern California based company, it's working.
PartyPOP.com features over 2 million highly accomplished and professional companies in the event planning industry. Some of these companies include Amazing Butterflies, Facepainting and Parties by Maria and Ivo Monroe Miller.
Amazing Butterflies is based in Forth Lauderdale, Florida. The company specializes in butterfly releases for weddings and special occasions. Since 1999, Amazing Butterflies has been operating full-time year-round from both the corporate location in South Florida and a satellite office in California. The company is dedicated to fulfilling the butterfly requirements of weddings, funerals, birthdays, charities, fundraisers, schools, corporate events, TV, movies or any other preferred event or occasion.
With offices on both coasts, Amazing Butterflies can accommodate just about every client. Amazing Butterflies' goal is to bring beauty and magic to people's lives as well as maintain and grow the threatened butterfly population. The company has several farms and affiliate farms across the US, Hawaii, Canada, Mexico and the Philippines. Amazing Butterflies is a member of the National Association of Wedding Planners (NAWP), American Academy of Wedding Professionals (AAWP) and International Butterfly Exhibitors Association (IABE). The company also advertises nationally in major publications ranging from Modern Bride to Martha Stewart Weddings and offers Live Butterfly Kits, Artwork, T-Shirts, Gardening, Seeds, Butterfly Plants, and Monthly Book Reviews accessible on their website. More information can be found online at http://www.partypop.com/v/4000236.
Facepainting and Parties by Maria, services the New York, New Jersey, Connecticut and Westchester areas. As a professional face painter, Maria is fully insured and also offers body painting, UV painting for night club events, glitter and temporary ink tattoos, balloon art, and interactive games at her popular caricatures and princess parties. Maria is also a professional singer and performing artist currently teaching music and drama to students who can't get enough of face painting for their concerts and shows.
Now, both children and adults benefit from her artistic ability and creativity. Customers can choose from a wide variety of full face, eye masks, cheek designs or hand and body painting. Maria only uses professional, FDA approved and hypo-allergenic paints ensuring safety and convenience. Other popular theme parties include jungle safari, princess, super heroes, night of horror, or mardi gras to name a few. Facepainting and Parties by Maria can also provide balloon artists who can create whimsical and interactive balloon art and activities for kids. Also available are princess characters who will play games, sing songs, take photos and do crafts with guests. Facepainting and Parties by Maria can be found online at http://www.partypop.com/v/4299856.
Based in Kauai, Hawaii, Ivo Monroe Miller is a musician who has provided piano and vocal entertainment internationally for over thirty years. He is a graduate of the University of Miami's School of Music and is well versed in all styles of music and eras including, Jazz, Big, Band Standards, Classical, Broadway, Hawaiian and more. Recently, Ivo won the professional category of the Kaua 'i Mokihana festivals songwriting contest with his original song Tropical Lovin'. Ivo was also nominated for Hawai 'i Music Awards 2000 Male Vocalist of the Year and Pop/Contemporary Album of the year. He resides in Wailua, Kaua 'i with his wife Lori who is the Executive Director for Kaua 'i Hospice and their son, Jordan. Ivo Monroe Miller can be contacted online at http://www.partypop.com/v/4302973.
About PartyPOP.com: the largest party, wedding and event planning online network:
Before the Internet era, the professionals at PartyPOP.com were successful hands-on party planners and special event producers. For more than a decade PartyPOP has translated 30 years of party planning experience onto the Internet. Millions of vendors are listed on the network consisting of 60+ websites and tens of millions of customers have used the network to plan their parties, weddings and events. PartyPOP.com also provides party and event related tips, themes and ideas, as well as a free full wedding planning software called Seating Arrangement.
About Free Printed Invitations by PartyPOP.com:
PartyPOP provides every bride and groom across the USA, Canada and the U.K. with free beautifully designed wedding invitations, printed on 80lbs card stock paper with matching envelopes and wedding website. Even door to door shipping is included at no cost. There are no hidden fees, no obligations to buy and no strings attached!