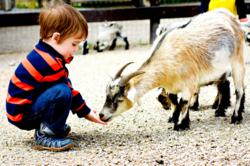 PartyPOP.com features ambitious and professional vendors in the party, wedding and event industry.
(PRWEB) April 22, 2012
PartyPOP.com recently announced free wedding invitations and an RSVP website for any engaged couple in the United States, Canada and the United Kingdom. The company has re-purposed their 2012 marketing budget in hopes of building brand awareness and loyalty. According to reports from within the Southern California based company, it's working.
PartyPOP.com features over 2 million highly accomplished and professional companies in the event planning industry. Some of these companies include Cowboy Critters™ Petting Farm & Pony Rides and McDonny's Traveling Farm.
Cowboy Critters™ Petting Farm & Pony Rides delivers the ultimate in "live entertainment!" As part of Solid Rock Ranch in Saint Clair, Missouri, Cowboy Critters bring their favorite barnyard buddies to your backyard. Among the menagerie, meet "Sweet Pea," the sweet miniature Jerusalem donkey, and regal "Solomon" the llama, arrayed in white. And don't forget "Slim Jim" the Swedish miniature pig, to name a few. Children of all ages (yes, even the adults get in on the action) enjoy the interactive hands-on experience unique to this mobile petting farm outreach. "Unlike other petting zoos," writes Jeff Tobler, Solid Rock Ranch proprietor, "Cowboy Critters™ was founded with the purpose of showing every child-at-heart the majesty and wonder of God's awesome Creation through these adorable animals". More on Cowboy Critters™ Petting Farm & Pony Rides can be found online at http://www.partypop.com/v/4362575.
McDonny's Traveling Farm serves Manchester, New Hampshire State and Massachusetts. The family owned and operated company has been specializing in birthday parties, school activities, town days and coop outings since 1997. McDonny's Traveling Farm is designed for maximizing interaction between children and farm animals. From looking at a duck's webbed feet to learning what a rooster says, children and guests will leave the farm with knowledge and respect for animals.
All animals at McDonny's Traveling Farm are personal family pets and live together at the company's farm. The company is fully insured, USDA licensed and a member of the BBB. Mc Donny's has friendly ponies for children to ride and also brings along a cool petting farm which includes bantam chickens, assorted ducks, mini lop and Rex Bunnies and goats. All animals are healthy and groomed prior to any party, are between two and five month old, and are kept very clean. McDonny's Farm comes dressed up as farmers and also passes out temporary tattoos and stickers for the children to enjoy. More information can be found online at http://www.partypop.com/v/4094435.
About PartyPOP.com: the largest party, wedding and event planning online network:
Before the Internet era, the professionals at PartyPOP.com were successful hands-on party planners and special event producers. For more than a decade PartyPOP has translated 30 years of party planning experience onto the Internet. Millions of vendors are listed on the network consisting of 60+ websites and tens of millions of customers have used the network to plan their parties, weddings and events. PartyPOP.com also provides party and event related tips, themes and ideas, as well as a free full wedding planning software called Seating Arrangement.
About Free Printed Invitations by PartyPOP.com:
PartyPOP provides every bride and groom across the USA, Canada and the U.K. with free beautifully designed wedding invitations, printed on 80lbs card stock paper with matching envelopes and wedding website. Even door to door shipping is included at no cost. There are no hidden fees, no obligations to buy and no strings attached!